HPD's Code Of Silence, More Mufi

By
.(JavaScript must be enabled to view this email address)
Wednesday - April 30, 2008
|
Share

Del.icio.us
The Honolulu Police Commission isn't too happy with police chief Boisse Correa's communication with his deputies and the way he left everyone in the dark about the seriousness of his ongoing medical problems.
While the commissioners are gnawing on those things, I suggest they look at Chief Correa's sorry record of making investigation and arrest information readily available to reporters and the public.
This has not been a forthcoming administration. The general attitude that Correa has fostered seems to be "don't ask, don't tell - don't ask us questions because we don't intend to give you answers."
When reporters call Mainland police departments and sheriffs' offices, they're amazed at the amount of information on a developing crime they get from people they don't know and don't know them. Here, the typical reply to reporters tends to be "the guy who handled that is gone. Try again tomorrow."
HPD has hired former KITV reporter Caroline Sluyter as a new PR woman. If she's as honest now as she was as a news-woman discussing this, she'd say of my writings here, "Yep, that's the way it is."
Our police by and large are decent people. But once a department gets in the habit of "It's none of your business," the next step is one none of us wants to see here - like Los Angeles, Dallas and New York.
The time's ripe to think about a new chief. It's called regime change.

I'm not looking forward to this year's Honolulu mayor's race because it's shaping up as Mufi Hannemann against no one with money or an electable name.
It's too bad that Hannemann is getting a free ride. That's not good for a democracy. He sure has vulnerability despite his huge campaign fund. Lots of people don't like his train and even more people don't like our Third World roads, or that half-a-million-dollar train-transit PR money sub-contracted to his 2004 campaign worker Elisa Yadao. It's not about who she is. It's about using our money to lobby for his transit vision. I share that vision, but I'd never spend public money pushing it on people.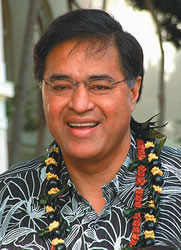 Hannemann: no competition
But, hey, as Hannemann said, that's manini money. Did you know the Air Force awarded a $50 million PR contract to promote the Thunderbirds shows around the country?
The best mayor's race will be on the Big Island, where Sen. Lorraine Inouye is the likely winner over Billy Kenoi. It's funny to see all the campaign signs of Councilman Stacy Higa seeking that mayor's seat as front page stories tell of him costing the county $650,000 for sexually harassing a county employee.
The Legislature? It will remain unchanged because only a dozen Republicans not already in office have taken out papers to run for the 63 open seats.
It's an uninteresting City Council year because no term-limited member has emerged as a strong candidate for anything else. No non-term limited member is really worth a voter's look! Charles Djou is going for Congress against Neil Abercrombie, but who will waste a campaign donation?
I know journalists are supposed to cheerlead for voter turnout, but this year is so boring locally that I'm going off on a Mainland camping trip during the primary.

Gov. Lingle was right to veto that "card check" law applying to agricultural workers being recruited by a union.
Rep. Abercrombie says he supports unionization by just signing a card requesting it because employers have ways of intimidating workers prior to a secret ballot.
Well, isn't a union promoter going up to a co-worker and saying "here, sign this card" an intimidation? And consider that some ag workers aren't all that fluent in English or tutored in union law.
No, those workers need some time to think it over, ask others and make an informed decision by secret ballot.
If employers wrongfully drag out the vote or certification after the ballot, then address that in the law. Don't replace secret balloting with a "here, sign this" law.
Most Recent Comment(s):