Imagining Our Hawaii In 2020

By
.(JavaScript must be enabled to view this email address)
Wednesday - December 30, 2009
|
Share

Del.icio.us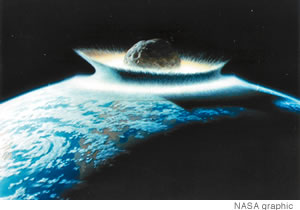 Ouch: This is how NASA imagines an asteroid hitting Earth might look
I thought I'd do something different for this new year and peer 10 years into the future to 2020 to see what life in Hawaii will hold for us. Presumptuous, yeah, that I'll still be around at 84?
We have a gambling casino in the lobby of Turtle Bay resort and video slot machines in hotels elsewhere, plus gaming aboard local dinner cruises. That was done by compromise: The state authorized Turtle Bay as a nonprofit casino that must distribute all after-operations revenue.
We have same-sex marriage and everyone wonders what the fuss was about.
We're competing for riding space on buses and the $6 billion train as everyone tires of crawling at 15 mph along the freeways and wonders how that Honolulu Traffic gang could ever have held out for just more highways for more cars.
Dan Boylan, former professor and MidWeek columnist, crowned his career with a book called The Lingle Legacy. It pooped out after selling very few copies. Duke Aiona went back to private law practice and people sometimes ask, "Whatever happened to that guy who wanted to be governor?"
The eight years of Mufi as governor weren't as bad as some who considered him inept at administration feared. But the pendulum swings, and we're into the first term of Gov. Kymberly Marcos Pine. That "Marcos" middle name did it with our Illocanos.
We have a West Oahu University of Hawaii campus but discovered exactly what others had predicted: It drained off an insupportable amount of money and created unhealthy competition for funds with faculty at the Manoa school, which now rates No. 82 nationally. UH sports are volleyball, soccer, men's and women's basketball, swimming and water polo.
Superferry came back and operates on Oahu, Maui, Kauai and the Big Island.
The Cancer Research Center gave up the ghost because of lack of funds. The UH Medical School stumbles along in Kakaako, but most people admit it should have been built either at the Manoa campus or alongside a major hospital. The downstairs cafeteria continues to be one of the most popular lunchtime eateries in Honolulu.
News? Mostly by Internet and iPhones. MidWeek has a total read-ership of 800,000 on Oahu alone. It also circulates in Wailuku-Maalaea-Kihei, in Hilo-Waiakea-Kona and Lihue. But not on Molokai because the population is down to 3,400 and the Army is negotiating to make it a training range.
Global warming brought the high-tide ocean into Jim Nabors' pool at his Diamond Head house (now called Theatre House), and much of the Lanikai beach-front property is underwater.
We got public parks we can be proud of under Mayor Les Ihara.
We never got all that high-tech business some people dreamed of. Prospective executives and employees complained that Hawaii was too far away from family, housing was too expensive and highly educated help non-existent.
Oops, this just in to our 2020 newsroom: UH astronomer Nick Kaiser says he's detected a killer asteroid on a collision course with Earth. Hawaii Family Forum says it's God's punishment for all that gambling and same-sex marriage.
Most Recent Comment(s):