Kakaako Plan Blocks Isle Views

By
.(JavaScript must be enabled to view this email address)
Wednesday - September 17, 2008
|
Share

Del.icio.us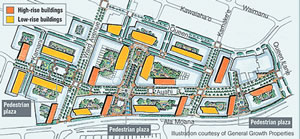 General Growth Properties' plans, above and below
The Hawaii Community Development Authority has invited us - the public - to be "buttinskies" on the proposed Queen-Auahi-Ala Moana mega-project in Kakaako on 60 acres. Here's my RSVP.
The developer, General Growth Properties (GGP), likes to stress what it capitalizes as the "Central Plaza," a 700-by-200-foot mall on Auahi Street. Foot traffic, farmers' market, performance stages. OK, right?
But you'll pay for the open space with "vertical living structures." That's what developers prefer to call high rises these days. And that's the whole issue with me because we've already lost much of our Koolau view plane from Ala Moana Beach Park, and this plan by GGP will erase more of it.
Somebody needs to stand up and say "enough already" to those spires along the main city corridor, not only for height concerns but also for thickness. It's no solution even if we keep the towers at 20 stories instead of the requested 40 but allow the base footprint to cover 16,000 square feet.
GGP is trying to hold us hostage to taller and thicker towers by saying if it can't have its verticality and thickness, then we can't have as much open space.
I'm not against high rises. I'm just death on them where they seriously impinge on what we are visually.
GGP tries to assuage the "vertical living" fears by saying "we are engaged in a very careful planning process that puts a high premium on the preservation of the beautiful mauka to makai view corridors. Of course, some of our residential and commercial development will necessitate building towers; but in the end this preserves more land for open space and creates an attractive urban environment, rather than allowing sprawl to occur."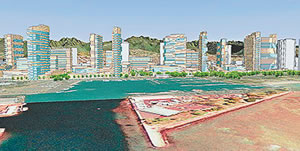 General Growth Properties' plans, above and below
Why am I not assuaged? Because there need not be urban sprawl in Kakaako, certainly not that part of it, were not GGP's primary objective being able to pepper the area with more retail space. The envisioned 4,000 housing units are mainly to create spending customers. Do you really think those center-city towers are going to be affordable to the average working family.
Here, again, is GGP's vision: "We are planning a mix of residential units - from high-rise and mid-rise residential towers to townhouses to lofts. Our goal is to attract a diverse mix of residents - young professionals, families, seniors and others with a diverse range of incomes to constitute a dynamic and socially vibrant new neighborhood." Good with word images, yeah? Dynamic and socially vibrant.
It claims that over 20 years as it builds 4,000 housing units, 800 would be reserved for families earning 140 percent of the medium income or below. But who will finance those lower-income mortgages in an unsteady financial climate? Sales are to start 12-18 months out from plan approval. I'm immediately suspicious that plenty of unclaimed units by would-be but un-rich buyers found not qualified for mortgages will be sold at market price.
That's something that can be written into the approved plan. My primary concern is about more towers in this location. I don't think the "Central Plaza" is a good tradeoff for losing more view into our gorgeous mountains.
Well, you guys asked us to weigh in with our opinions, and I did.
You non-columnists can, too. Go to: www.HCDAweb.org.
Most Recent Comment(s):