KCC Cook School And UH Politics

By
.(JavaScript must be enabled to view this email address)
Wednesday - May 14, 2008
|
Share

Del.icio.us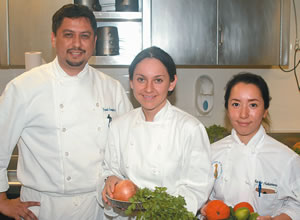 KCC chef-instructors Frank Gonzales, Adriana Torres and Sachie Nakamura
Some Diamond Head Road residents are worried that the new KCC cook school and restaurant at the former Army Cannon Club site will ruin the neighborhood. That's not going to be the case. Anyway, please read on about a worthy program the college is offering the public.
You can teach an old culinary dog new cooking tricks. Yep, they taught some to this 30-plus-years Kitchen God when my wife signed me up for the Culinary Arts School non-credit, continuing education program at Kapiolani Community College.
I thought I knew everything. Turned out I didn't, especially not about Mexican barbecue, fried sausage and cheese or Mexican bean soup.
But first, something about why KCC would be honing my cooking skills and how you can avail yourself of the same.
Do you know that the college - in my opinion the most beautiful, well-maintained campus in the UH system - has the cooking school, a with-a-view restaurant open to the public and placement of many chefs in our top restaurants?
The cooking-school-for-the-general-public program started in the late '80s. Chef-instructor Frank Gonzales is its current chef-in-chief. He took a big pay cut from his Silicon Valley PR job ("now I'm negative cash flow") to do that. Why?
"For me personally," he says, "I really want people in Hawaii to eat better and enjoy their food as much as I do."
There are classes on everything from basic knife usage (Gonzales says, "I love it when people come in who have never cooked.") to Middle Eastern dishes by an Egyptian chef.
Who signs up at about $60 per four-hour Saturday class?
"We've had teachers, teens and a bank president," Gonzales told me. "And a retired woman from Ohio who flies in here three times a semester just for our classes. She wants to become a personal chef."
In addition to a pair of Saturday classes, there are tea classes and Chinatown fish-and-produce or local farm tours. The chef-instructors are paid, but there are kitchen volunteers. The fees non-credit students pay go into the Culinary Arts School, which only gets 65 percent of its budget from tuition and the Legislature.
To sign up for classes, call the registrar at 734-9211 or e-mail Gonzales at .(JavaScript must be enabled to view this email address). He'll put you on a mail-out schedule of classes.
And don't sweat those coming third- and fourth-year chefs and hospitality classes and 200-seat restaurant in two years or so at the old Cannon Club. There won't be any late-night parties, and the parking is all off-street.
Oh, one final note for my KCC Mexican food chef-instructor, Adriana Torres. Sorry, ma'am, but this stubborn Kitchen God always makes his pico de gallo (a common Hispanic relish) to include cucumber and yellow mango. So obviously there are some cooks you just have to give up on if you're a pueblo traditionalist!

Taking non-confirmed UH regent Kitty Lagareta's comments at face value (I've never had occasion to detect her fibbing on university issues), I'm troubled about continued political meddling in the UH administration. I wish president David McClain would get some gumption and say publicly "knock it off or I'm out of here!" Wendie (his wife), give that man some backbone!
Lagareta says that after a search committee picked Jim Donovan as best for athletic director there was heat (even inside the regents' board) to select the very politically connected Rockne Freitas, chancellor of Hawaii Community College.
It's great that Lagareta spoke up. I wish Jane Tatibouet would, too. And then McClain. He can't continue to play Mr. No-Make-Waves and make UH a first-rate school. David, you didn't even get the fix-up money you wanted. If you won't speak up and just collect your paycheck, your only legacy will be a broken-down campus with a broken-down faculty and a bunch of compliant deans.
Most Recent Comment(s):