Labor Union Lessons From Five-0

By
.(JavaScript must be enabled to view this email address)
Wednesday - March 05, 2008
|
Share

Del.icio.us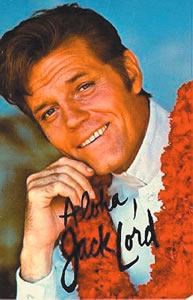 McGarrett's hand needs makeup
I received an e-mail from MidWeek reader Garret Ogata. "Bob, I just saw an episode of Hawaii Five-0 starring Hume Cronyn as a thief trying to outfox McGarrett, and there you were sitting at a press conference asking questions. I'm assuming you were in other episodes of Five-0 as well."
Yes, I was. But the only episode that still pays me royalties is that Hume Cronyn one, Over Fifty, Steal - it still plays in many countries. Maybe because Cronyn played a "good" robber trying to get back at those who had dumped him from his job because they thought he was too old. (Just as we dump state judges at age 70 as decrepit and unfit for duty.)
I wrote "royalties." Not like Jim Nabors' royalties from Gomer Pyle USMC. I filed a W-2 this year from Universal Pictures for $6.40.
And, yes, I did some other roles, all of them as a reporter. I was nowhere near the talent of Tim Tindall or Joe Moore. The casting director suggested I try out for a bigger part. He asked me to do some basics, show surprise and danger. He quickly knew I was not an actor!
Two stories about my short career with Five-0.
When the show was shooting in the KGMB studio, I was standing just off set during set-ups for a scene. The director yelled out "Can somebody turn on that spot over there" - right by me. So, being familiar with TV lights, I reached out to flip the toggle switch.
"No!!!" somebody screeched. "That an electrician's job."We had to wait 15 minutes while they found a film-union electrician to flip the toggle switch to on.
When I first went to NBC News in 1968, I was assigned to New York for two weeks' of orientation. I filled in one day for a local correspondent at a news conference. The crew - me, the driver, the cameraman and the light man - drew up in our car and I offered to help the union light man carry one of his two suitcases of equipment. He said: "Mr. Jones, I don't do your reporting and you don't carry my cases."
It's a union thing. Someone might figure out you don't need the extra dude. TV news doesn't use that extra dude in Hawaii. Some local stations aren't even using the reporter dude anymore - just a cameraman who holds a microphone and eavesdrops on other station's reporters' questions and writes/edits a story for the 6 o'clock news.
But back to Five-0. My only vibrant memory about Jack Lord is when they were shooting that Over Fifty, Steal news conference scene. Lord had to point to a blackboard. He suddenly yelled out that nobody had made up the back of his hand. Yes, the back of his hand. We stopped for half an hour while they found the makeup man.
And Lord had this thing about touch. He didn't want to touch people and he didn't want people touching him, other than his makeup man (who always stayed close with a bottle of hairspray.) He'd refuse to shake hands in the elevator at the Kahala Beach apartment complex where he and wife Marie lived.
He had been a great tackle on the New York University football team, and was a decent artist. So it pains me that the bust sculpture of him at the Kahala Mall is maybe the worst representation of the man that I can imagine being done. Looks like somebody else.
The show was a great hit and episodes still play on TV around the world. The music says Hawaii. We need the Five-0 theme song back at UH football games.
I wish I could tell you the whole story about why Zoulou (the late Gilbert Kauhi) was fired from the show. It's a good, juicy one but it may have to wait for former MidWeek columnist Eddie Sherman's next memoirs.
Thanks for asking, Garret. You brought back things I'd long tucked away.

Some things in the news really bug me.
* The Mainland publicly traded company that owns the old Damon Estate land at Mapunapuna and Kalihi Kai wants to double lease rents on its really small-business tenants. Capitalism at its worst. Bigger return for faraway investors. Devastation for small body-shop or repair mom-and-pops.
* The new state transportation director doesn't plan to re-light the H-1 out Waikele-Kapolei way where thieves stole the copper wiring. Says it's a "rural road" and not a priority. Yeah, rural road with cars doing 80 mph and more!
* The UH transportation scholar Panos Prevedouros is getting tedious with his bus-transit mantra when we've already moved on to a fixed guideway. He's still horse and buggy and streetcars while big cities have resoundingly adopted newer technology. Reminds me of those 1900s guys who insisted that elk riding was the wave of the future.
Most Recent Comment(s):