Lahaina Halloween Parade Is Back

By
.(JavaScript must be enabled to view this email address)
Wednesday - October 26, 2011
|
Share

Del.icio.us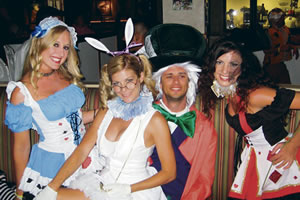 Rana, Natalie, Chris and Sheri at Lahaina Halloween 2010. Hawaii Web Group photo from Bob Jones
It's back! Front Street in Lahaina will be closed next Monday night for the sometimes lewd and raucous but always entertaining and just reauthorized Halloween parade.
Not everybody's happy about that. There's a rumble of dissent among Hawaiian cultural groups and some townies. Some Hawaiians took great offense to banners posted on Front Street shops that had shown a headless Hawaiian holding a pineapple.
The bar and restaurant owners are surely deliriously happy. Past Halloween parades have drawn about 20,000 people.
This thing started spontaneously in the 1980s with a few costumed revelers, similar to our current Waikiki observation of the holiday. It grew exponentially until 2008 when the Maui County Cultural Resources Committee ruled that the event did not fit into any historical connection and killed all but a brief keiki event.
Now there's a new county administration and it is permitting the adults to strut down Front Street but will have plenty police on hand to tamp down rowdiness and bust drunk drivers.
Keeaumoku Kapu, cultural consultant to the group Kuleana Kuikahi, thinks the county ignored Hawaiian sensitivity in re-issuing a close-the-street permit. The county disagrees and says its previous denial was only because the stage was too big and vendors were selling on public land in Banyan Tree Park.
My read is that the county was looking for an excuse to resume a big revenueproducing event marketed in the past to mainlanders as "the Mardi Gras of the Pacific."
Many people objected to the nudity, the lewd costumes and floats such as the one shaped as a giant penis. The Maui News reports that lewd costumes are being discouraged, although Maui cops say they are not going to be costume police.
Economic Development coordinator Teena Rasmussen is quoted saying: "Overwhelmingly, (the consensus) was bring Halloween back, but let's do it in a respectful manner."
The LahainaHalloween.com website says "we will have 80 police officers patrolling. Lahaina is probably the safest place to be at on Halloween because of the overwhelming caution of the police force. After it gets dark, you may want to take the kids home. People can tend to get drunk and rowdy, and some people wear revealing outfits. There will be check points to stop drunk drivers as well as random stops."
Probably the toughest tables to get will be the Lahaina Yacht Club and Cheeseburger in Paradise. The Lahaina Shores condohotel says it is booked out for that weekend.
Front Street will be closed from Baker to Prison streets from 3:30 p.m. to midnight.
Say hello. I'll be the guy in the Bob Jones mask.
Most Recent Comment(s):