Lingering Agent Orange Questions

By
.(JavaScript must be enabled to view this email address)
Wednesday - May 17, 2006
|
Share

Del.icio.us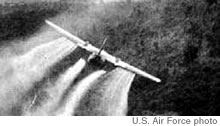 A C-123 drops Agent Orange over Vietnam
It's Armed Forces Week. This one is for all you Vietnam veterans who deserved better. I kept waiting for new scientific evidence to emerge. It hasn't. Let's get this one behind us.
Agent Orange.
The name carries a lot of baggage. We sprayed more than 11 million gallons of the stuff over 4 million acres of Vietnam before it was outlawed in 1970.
Some of you suspect it caused your cancer, liver disease or neurological disorders. Some women suspect it caused their miscarriages. Others blame it for general health problems or even deformities at childbirth.
It's 2,3,7,8-tetrachlorodibenzop-dioxin. The Pentagon says we started spraying it in 1965 in Vietnam. I know that's not right because I went out on what was called a Ranch Hand mission - spraying it from a C-123 Air Force plane - in early 1964. I'd lean out over the open rear ramp and let my face and shoulders hang down to watch the spray whiz past me.
Yeah, I'm still OK 42 years later. I can't blame Agent Orange for my coronary artery disease or my arthritis - at least I don't think I can, although both vets and civilians have blamed it for just about everything from mental disorders to athlete's foot.
The companies that made the stuff for us to use to defoliate jungle canopy and riverside mangrove trees were Dow Chemical, Monsanto, Hercules, Diamond Shamrock Chemicals, Uniroyal, Thompson Chemical and T-H Agriculture and Nutrition.
Too late to successfully sue them. Here's why:
Beginning in 1978, hundreds of individual suits and class actions were filed on behalf of the 2.5 million veterans who served in Vietnam and their families. Those lawsuits were consolidated before Federal Judge Jack Weinstein in New York.
In May 1984, on the eve of the trial, there was a settlement between the companies and the veterans. Judge Weinstein said the plaintiffs were facing certain defeat. The vets could not prove that Agent Orange caused any disease and most of them couldn't even prove they had been exposed to it as ground troops.
So it's now a dead issue. Every case brought in the 20 years after the settlement has been dismissed.
You can still file a medical claim against the U.S. government through the Veterans Affairs Department, but that's a long shot. Your doctor fills out a form with symptoms. The more detailed he gets, the more the government is likely to say that's not one of the Agent Orange things. The less detailed, the more the government will say "show us more."
And remember that through 1972, we sprayed other toxic herbicides across Vietnam. Another 7 million or 8 million gallons. Nobody has a clue how much or how little any of those might have contributed to veterans' post-war health problems.
Dioxin has been shown to cause a number of serious conditions in laboratory animals, including birth defects and cancer. In spite of the toxicity to animals, there continues to be much scientific controversy and varying scientific opinion about what harm it may or may not have caused people.
Today, the scientific consensus is that the human evidence doesn't show that Agent Orange caused the veterans' illnesses.
There are a lot of you out there who don't agree. That neither my air nor ground exposure to the stuff harmed me doesn't say it didn't harm someone else with different body wiring or resistance.
Now we wait to see what new ailments might hit our veterans from Gulf War I and beyond.
Most Recent Comment(s):