Lingle's Real Reasons For The Veto

By
.(JavaScript must be enabled to view this email address)
Wednesday - July 14, 2010
|
Share

Del.icio.us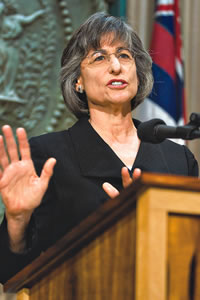 Gov. Lingle makes her case
Nobody should be surprised that Gov. Linda Lingle vetoed civil unions. She needed to give cover to Lt. Gov. Duke Aiona's run for governor and keep alive her possibility of being offered a job in the National Republican Party.
Between allowing the extra rail tax and now this veto, she's finished here - and has to know that. No votes from the Tea Party and none from the liberals she'd attracted in her first gubernatorial run.
I wish I were her confidant. How does a liberal Democrat from Cal State Northridge (a B.A., no graduate work) who worked for the Teamsters and Hotel Workers unions here turn anti-social-progressive-except-on-abortion Republican? Was it accidental or did she have an almost-religious conversion? I doubt she'd consider sitting down and telling me all unless she were in a nursing home with no family or friends.
Why did this Democrat turn right? Is it about not developing a family of her own? Is it about not being a real working-for-a-wage woman since her early days as a Molokai in-migrant with a Hawaiian boyfriend who'd driven for Mayor Frank Fasi?
Her anti-homosexual-union vote means minimal to no chance of a U.S. Senate seat. By the time one of the Dans' seats opens we'll be well on our way to civil unions like much of America and elsewhere, even heavily Catholic countries. Maybe not same-gender marriage, because Mufi Hannemann seems to be governor shooin and he's - alas - against that as a Mormon. We might get Neil Abercrombie, in which case same-gender marriage is possible within eight years with a state amendment repeal. There's less than a 5 percent chance that no-same-gender marriage Aiona will get the governor's seat.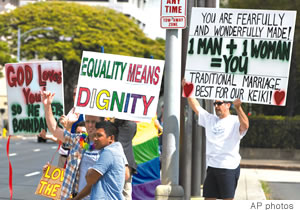 Proponents on both sides of the issue state their case outside the state Capitol last Tuesday
Civil unions wasn't Lingle's only failure. We should be way more ahead on energy independence, reform of the education system (Aiona's audit proposal makes no sense), using the running mate and not elected lieutenant governor system, an elected state attorney general and a much better tax collection system. Lingle nibbled at the edges but imposed nothing substantial. She's been the weakest of our governors since the second term - and first elected one - of William Quinn when he was pestered by uncooperative Lt. Gov. Jimmy Kealoha.
Mark my words: Lingle will get no kudos from historians. Letting civil unions at least go into law without signature was her final chance at legacy. She blew that.
She has about five months of nothingness ahead of her in which she'll mainly look for a paying job. This one gives her 20-year service retirement checks and health insurance. But she wants to be somebody. So why did she veto civil unions the way she did? She could have claimed flaws. There were some, and work was needed on health benefits so there'd be no fraud. She didn't. She said it was same-gender marriage by another name.
It wasn't. That made her effectively a religiously intolerant person, and sucked in her political partner Aiona, too, because he didn't threaten, "If you say that I'm resigning." No, he agreed with that.
Well, we know where Lingle and Aiona stand. The why is another matter.
Most Recent Comment(s):