Loans, Name Change And Disney

By
.(JavaScript must be enabled to view this email address)
Wednesday - October 22, 2008
|
Share

Del.icio.us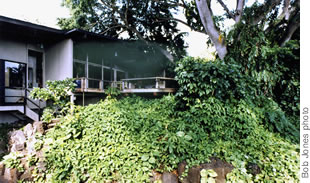 We bought this house 33 years ago
If you're like me and bought your house in Hawaii long ago, you must be puzzled over this business of "nothing down" and "undocumented income." We weren't allowed such nonsense.
My wife and I purchased our first house in Punaluu when we married in 1970. I went first to the Bank of Hawaii's Waikiki branch for a loan. The loan officer said "Sorry, but we don't loan on houses out in the country." (To be fair, then-branch-manager Larry Johnson later said I should have come straight to him because the loan officer gave me bum scoop.)
Next, I went to Island Federal Savings and Loan. That went well, but on an $82,000 purchase they wanted 20 percent down. That was pretty standard for the time. We had it, and we got the loan and the property.
When we'd eventually sold the house and purchased another in 1975, everybody was operating on agreements of sale. Put a chunk down and finance the rest with the seller - at an interest rate of about 9 percent at that time. There were balloon payments, of course, but everybody seemed to be meeting them. It was boom city.
Most critical to all those transactions is that we buyers had to submit to a vigorous examination of our income, and our liabilities. No bank and no private sellers were willing to simply accept a check-off that said I swear that I have enough assets and/or income to be able to afford this house.
And when I engaged a professional, Robert Tassie, four years ago to broker my current re-fi mortgage with Bank of Hawaii at 4.375 percent fixed for five years and variable for three, the appraisal and income verification were strict and time consuming.
I don't blame the borrowers. Many first-time buyers are financially ignorant. They depend on broker or lender advice. If they're told "No problem, you have plenty of income to meet the mortgage" they believe it.
We need to go back to 20 percent down and serious income vetting. Sure, housing sales might slow, but so will defaults.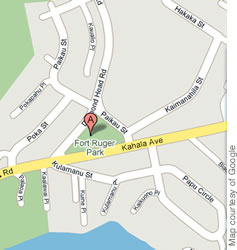 Why rename Ft. Ruger Park?
Here's another hope for you. Many loans like mine are based on the one-year treasury note when they go variable. Today that index is under 2 percent. Maybe your bank adds on a 2 percent margin; you'd pay only about 4 percent interest by letting your loan go variable instead of refinancing!
Luckily in Hawaii, land and houses have held their value quite well. I have Mainland friends who are hanging on by their fingernails as their home equity disappears while the bills continue unabated.
I'm better off than most because I bought my house 33 years ago, and so my remaining mortgage is very small. I pay $1,000 a month, including my property tax, horribly expensive hurricane insurance and fire coverage. That's one-third or even one-fourth of what some new-house people are paying at a time when job loss is a real possibility.
Plus, because of the years that have passed, I have a huge equity position. I know people who bought late and now have negative equity.
We've learned a hard lesson in America this year. Next, I fear, comes the credit card shock.

Here's a real ding-a-ling doing. Renaming Ft. Ruger Park (aka Triangle Park) in Kahala for a team of Navy Seals and Army Rangers killed in Afghanistan in Operation Red Wing. Were they Hawaii boys? Nope. Lt. Michel P. Murphy had been stationed here but is from the Mainland. The others: no connection.
If you must, how about renaming it Hawaii National Guard Park?

Walt Disney Parks & Resorts will build a huge hotel and timeshare complex at Ko Olina in Leeward Oahu. Good economic news. Lots of jobs. But ... residents should not roll over and play dead. This is an overdue chance to demand more beach-access parking for the public in exchange for expedited permits. Ko Olina got away with much too little in the first go-round. We should demand expanded public parking. Why give away our shorelines to tourists as the recent developments at Kaanapali-Honokowai have done?
Most Recent Comment(s):