Making A Difference In Vietnam

By
.(JavaScript must be enabled to view this email address)
Wednesday - September 27, 2006
|
Share

Del.icio.us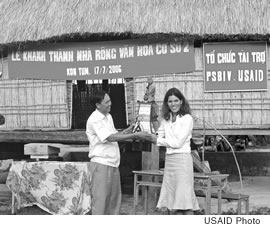 Brett Jones at a new community house with disabled
access in Kontum, Vietnam
Our daughter, Brett Jones, graduated from Punahou in 1991 and disappeared from her Hawaii home like so many of our talents-to-offer daughters and sons.
B.A. Wesleyan University, M.A. London School of Economics and diploma in Russian language from Moscow State University.
She never considered coming back here to work.
She decided on troubleshooting for governments that have trouble with a capital "T." She ran refugee programs in Croatia, elections training and refugee policy in Kosovo, and now manages all the U.S. Agency for International Development (USAID) humanitarian programs in Vietnam.
Coincidental that she should be there - Vietnam is where she was born in 1973 when her mother and I lived in Saigon.
Brett lives in Hanoi and spends about $40 million of your tax money each year on HIV/AIDS programs, economic growth projects, prosthetics, anti-female-trafficking programs and environmental initiatives. About 60 percent of the USAID assistance budget focuses on alleviating poverty. Another 25 percent on helping vulnerable children and war victims.
It cost $328,000 to build a new Rong House in Kontum this summer. A Rong House is unique to the highlanders - the Montagnards - and is used for community and cultural activities. But the high platforms have made access impossible for people with disabilities. Not this one. She got this first accessible-to-the-disabled one built, flew in for the opening, and a feast of porcupine and wild boar with fermented rice wine.
Typical day's schedule in Hanoi: "Preparing a series of memos for the ambassador; on a new project on flood prevention in the Mekong delta; an upcoming conference on lower-limb orthotics. Preparing a Congressional budget justification for '08 funding; writing talking points on the U.S. response
ernment organizations who are asking to receive USAID funding."
Brett e-mailed: "Let me share with you a story about Tran Hoang Yen. Four years ago she was living in a shelter. With USAID's assistance,Yen opened a small sewing shop. Today,Yen employs 17 people and her products are distributed in markets and department stores in the top four urban areas, her annual sales exceed 1 billion dong (around $70,000), an amazing accomplishment considering that she earned an average of just $30 a month before entering the USAID program."
Vietnam has a 9 percent gross domestic product increase, about $6 billion in pledged foreign investment this year and overseas Vietnamese sending home lots of money.
But Vietnam needs $50 billion just to raise its infrustructure to the level of neighboring Thailand.
What draws a 33-year-old American woman to hard-up places frought with uneasy politics and poverty?
"It's the little victories," Brett says. "In my prior job in Kosovo, it was watching a group of Serbian refugees come home after four years in camps, or meeting a deaf girl going to school for the first time at age 18."
Obviously, a parent wonders how safe the work is. She flies a lot.
Brett says: "Probably driving to work on my motorbike each day is the most danger I put myself in. There are millions of bikes in this city, and traffic lanes and even stoplights are taken as rough guidance only."
Most Recent Comment(s):