Making This Great Country Better

By
.(JavaScript must be enabled to view this email address)
Wednesday - July 05, 2006
|
Share

Del.icio.us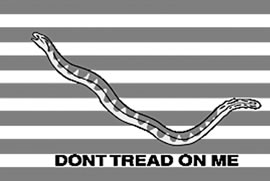 Don't Tread On Me, America's unofficial Navy flag in
1775
Another American birthday holiday, and what's to complain about besides Iraq, sickly Social Security, no national health insurance and a $43 billion anti-missile system that doesn't work?
Yes, we got our butts kicked in soccer, but our World Cup team led all others in the number of college graduates.
Life span, wages, education, home ownership and racial and gender equality are much improved over the previous generation. Waikiki hotel maids average $14 an hour. But that's like saying the average American man is 5-feet-10-inches tall and the average female 5-feet-4-inches. Some are not.
Do we raise the minimum wage to lift all others? A Star-Bulletin columnist wrote the lowest-brainer reasoning on that recently - Congress gets more, so why not burger flip-pers? Because giving just 6 million people $4,900 more a year isn't a poverty solution. It's a political sop.
We have about 40 million Americans living at or below the poverty level. In Hawaii, it's about 130,000 people - or 10 percent of our population. Statistics don't tell that story, either, because 15 percent of the Island people in poverty are Hawaiian or part-Hawaiian, and 15 percent of the homeless, and about 12 percent of our prison population.
I'm tired of the argument whether Hawaiians bring this on themselves by relying on government handouts, through junk family situations, drugs, alcohol or the-haoles-did-it-to-me attitudes.
I'd like to see some bootstrap politicians - people hot for solutions for pulling our lag-behind citizens out of the swamp. Maybe start with a new state House speaker and a new state Senate president in 2007?
To hell with affordable houses to buy. We need affordable rentals.
We need to rethink the social contract in Hawaii.
We cannot move all the Hawaiians to the Big Island or Molokai and create a semi-autonomous area like Spain with its northeast Catalans or its northern Basques.
So we need Kamehameha Schools excused as non-profit, non-commercial and good for morale - heck, the blood's so diluted now it shouldn't even be a federal case. We need some kind of Hawaiian identity totem - something much better than OHA but less than independent nation status.
Can we keep preaching homogeneity? That's nice if you've got Thurston Twigg-Smith's handed-down family money or just came here and paid $5 million for your house. That preaching is hollow in Waianae, Nanakuli and Maili, where tent cities grow like volunteer noni plants.
One political observation I can make is that I see a lot of nascent Republicanism among those who were the fomenters of the raise-all-boats Democratic Party in the 1940s and '50s.
Why?
They've now got theirs and want to keep it. No new taxes.
Our poverty and left-behind problem is compounding. Now it's also about Pacific Islanders living 12 to a room in KalihiPalama.
We could cut off all immigration. That's popular with many. They're like that character Owen in the play The Foreigner who yearns for an Invisible Empire that will make the U.S. great and pure and safe for God-fearing, white, born-here people.
We're hung up by religious dogma and we're Bushed.
But we're generous, good people at the core.
We do some very dumb things such as the Flag Protection Amendment, the Defense of Marriage Act and suggesting treason charges against The New York Times for revealing that our government is wiretapping us and peeking at our bank accounts.
But consider Vietnam, which last week enacted an automatic $1,780 fine for "denying revolutionary achievements, defaming the nation, great persons and national heroes."
Faults and flaws acknowledged, I still choose America.
I'd just like us to get smarter and better.
Most Recent Comment(s):