Meet Three Remarkable Ladies

By
.(JavaScript must be enabled to view this email address)
Wednesday - August 24, 2011
|
Share

Del.icio.us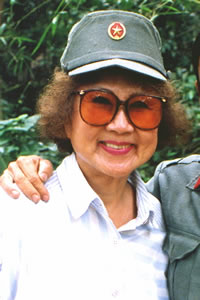 Betty Ho /Bob Jones photos
I would like all of you MidWeek readers to know of the three most remarkable late-in-life (well, over 90) women I have known. We are lucky to have them in our state, and I to have them in my life.
Journalists mainly write about such people when they die. I want them acknowledged while they live. I hope you'll walk up to them when you see them and say "thank you." This is in no order of standing. I picked them randomly. I love them equally.
Bette Takahashi comes to mind because I saw her recently in the audience at Diamond Head Theatre's fabulous play, Hairspray. She's a blond Danish beauty a Mainland haole who married the late 100th Infantry Battalion war hero and state Sen. Sakae Takahashi. She met him on the East Coast when he returned from Europe. Her parents were OK with the marriage. Sakae's plantation family on Kaua'i needed a bit of time to adjust. Dan Inouye was best man.
Bette and Sakae raised very productive sons and daughters, and Bette became a leading light of Planned Parenthood of Hawaii. She has little time for people without tolerance. She speaks her mind!
Betty Ho is probably best known to outsiders as the widow of Chinn Ho, Hawaii's best-known Chinese entrepreneur, stalwart of the Democratic Party, developer of the Ilikai Resort (and would-be developer of the foot of Diamond Head!) and onetime owner of the Star-Bulletin and KGMB. He once told me his biggest mistake was selling the radio-and-TV station to Cec Heftel too cheaply.
Betty's incredibly mobile. She went on one of my difficult tours of Vietnam, Cambodia and Laos. We went to the Viet Cong's Cu Chi tunnels before they were expanded for overweight and disabled tourists. Betty insisted on crawling through one on hands and knees. My wife was there. She said: "I was slowly crawling and somebody kept hitting my legs. I was going to bawl them out at the end, but it was Betty. She was keeping right up with me."
And Iris Hallaran. Iris came to Hawaii by way of Tahiti and her marriage to Pat Hallaran. She was a professional ballet dancer. He became Honolulu Community Theatre's first technical director. They were just keeping above water financially.
Businessman Kenneth Ault staked the pair $20,000 to buy the lease on a mauka shack restaurant near Kahana Bay. Pat and Iris knew nothing about cooking or running a restaurant but they dived in. The place would become Pat's at Punaluu, eventually move to an oceanfront location and become one of Hawaii's most reknowned Polynesianthemed eateries.
Pat died. Iris sold eventually. The restaurant operated briefly under new owners and folded. She became a counselor for SCORE, an organization that helps people start and better run a small business. As she went well beyond 90, she continued to do adventure travel, and she can drive day or night with no glasses required.
Amazing women!

The photo last week of a Coldwell-Banker check presentation to the Kauai Independent Food Bank was taken from the KIFB's public website and was not used with the permission of Coldwell-Banker. I'm sorry I did not make that clear.
Most Recent Comment(s):