Merrie Monarch Needs Tweaking

By
.(JavaScript must be enabled to view this email address)
Wednesday - April 29, 2009
|
Share

Del.icio.us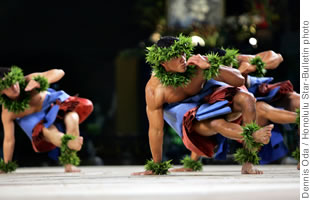 Kumu hula O'Brian Eselu's men of Ke Kai O Kahiki received the overall winner trophy at the Merrie Monarch Festival
It is very risky to write about hula if you are not Hawaiian, or a kumu, or a dancer. But I'm married to a dancer and, besides, when have you known me not to tackle a topic because it's too risky?
So let's talk about the 45-year-old Merrie Monarch Festival that draws many thousands to Hilo every year.
(Did you know it started with a Kalakaua beard contest and a barbershop quartet competition, and that '71 was the first hula competition? I'm betting not!)
It's obvious to me that the current hula competition operators and the judges they pick are preserving traditional hula. Well, traditional as it was when King Kalakaua brought it back from the purgatory it was assigned by the missionaries.
That's great ... but. It's a competitive event, not just a performance. Today's judges tend to reward tradition in music choice, costume choice and dance style. They do not reward innovation or great artistic vision. Patrick Makuakane need not apply.
If you want to win - and some halau spend as much as $50,000 on the four-day happening - don't do anything too damn artistic! Dance traditionally. Winning means more students, more money. Kumu O'Brian Eselu and Sonny Ching nurtured the money tree this year.
In 2007 and 2008, the West Coast kumu Mark Hoomalu's syncopated chant style and creative dances chicken-skinned the audience and drew rare standing applause. But he didn't even get a last place. I'm told that the judges had warned Hoomalu: Don't wear that glove and don't beat on the top of the pahu. That's not traditional. He ignored them. He didn't come back this year. Why bother?
Los Angeles and Las Vegas halau come every year. No chance of winning. Hilo's Johnny Lum Ho halau used to be a winner in spite of its then-shocking costumery. I suspect he'd be dead meat today with the new conservative judges.
So my two issues are about tradition and prize competition. I'm a renegade who would toss out both. Just put on a great show of old and innovative, artistic hula, and make it non-competitive, like the Prince Lot annual hula event at Moanalua Gardens on Oahu.
Yes, there are good arguments against at least my first suggestion.
If you aren't dancing in the fashion of the Kalakaua era, why call it the Merrie Monarch Festival? Big Island kumu hula Rae Fonseca returned this year after a serious criminal problem, stuck with traditional, won big, and told the Hawaii Tribune-Herald:
"I think it's important that we try to keep things in their traditional form for as long as we can, because the past is our roots, and we need to remember where we came from."
Very good. But dance comes from the heart and the gut and should electrify us, the spectators. The past two Merrie Monarch Festivals have been big on tradition but lacking any electric spark. The one sparky halau-in-blue that brought down the house this year won nothing. "Too Hollywood," one hula insider told me. Too fabulous, say I.
Competition for prize money is something I haven't had a chance to discuss with MMF director Luana Kawelu, daughter of Dottie Thompson, co-founder with George Naope and Albert Nahale of the stunningly popular event.
I'd rather see non-competitive performances. Why? Hula should not be about winning. We regularly see individuals (Snowbird Bento) or groups (Halau Kealaokamaile and Halau Na Lei Kaumaka O Uka) losing the bigger prize by one point.
Or a halau being gigged five deadly points for not having all the paperwork in by certain deadlines.
This doesn't make sense to me. But is it just me?
Also, the local judges (you can't find Mainland ones, can you?) have long personal connections to certain kumu hula and/or the musicians that play for them. How can you not give high marks to your good friend's halau? Every halau gets to look at the judges' point-award sheets (just theirs, not for other halau - but, hey, if the Pentagon Papers leaked to the New York Times, you think Halau A can't get a peek at the sheets on Halau B?
Please don't read this as Crabby Haole disses the MMF. I deeply love it. Go every year. I'm just tossing out some things for public discussion.
I'm sure MidWeek readers will be chock-full of opinions. You're great sounding boards!

Here's my take on last week's Windward council seat election:
Voters didn't want aged John Henry Felix, who defied City law with his marriage business and made so much more money off it than he ever paid in fines that it was a joke. The Advertiser's endorsement didn't count for squat!
They didn't want Steve Holmes because he clearly lied about his college background and has been out of the loop.
Ikaika Anderson's endorsement by the late Barbara Marshall's husband probably counted the most.
Most Recent Comment(s):
For all comments click here.