Merry Christmas Despite History

By
.(JavaScript must be enabled to view this email address)
Wednesday - December 20, 2006
|
Share

Del.icio.us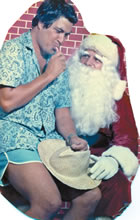 The author on Santa's lap
in 1975
Christmas is one of the oddest yet most wonderful of holidays of the western world, at least until we have to start checking Santa's toys for radioactive polonium-210 traces.
It is celebrated by Christians as the birthday of Jesus even though there is nothing in any version of any Bible that says anything about any such observance.
It is celebrated at least with a decorated tree, or gift-giving, or a special dinner with friends, or an excuse to travel by many Buddhists, Jews and atheists.
Historians tell us that Christmas was not celebrated, commemorated or observed by the apostles or in the apostolic church for at least the first 300 years of Christianity.
Religion historian Robert Myers has written of our date of Christmas that "December 25th in the Roman world was the Natalis Solis Invicti, the Birthday of the Unconquerable Sun. This feast, which took place just after the winter solstice of the Julian calendar, was in honor of the Sun God, Mithras, originally a Persian deity whose cult penetrated the Roman world in the first century B.C."
So we made up Dec. 25. But that's OK, so long as we admit that.
Christmas card-giving came in 1840 in Great Britain with the first public postal deliveries. Santa Claus started as a Dutchman, Nicholas, who gave things to the poor.
Today, especially in Europe, there's often no religious significance attached to Christmas, and fewer and fewer people there go to church that day or any day. And in Japan, most people celebrate Christmas minus the religious attachment. It's just a personal holiday.
Charles Halff, the director of the Christian Jew Foundation, says that "Jewish people celebrate Christmas today, not because of Christ's birthday, but because it is a popular tradition and part of our present-day culture. It's as American as apple pie and hamburgers."
But 22 years into his own celebrating, Halff stopped. Why? He found that there is no Biblical doctrine that defines Christmas. So he no longer thinks that even Christians should observe Christmas.
Steve Kangas of an organization called Liberalism Resurgent says he's rejected Christmas for reasons that are "economic, environmental, social and religious. The fact is, Christmas today has become a thoroughly illiberal event, at odds with everything that liberals stand for."
How's that? Kangas says we spend too much of our income on that holiday, and the result is concentrated corporate profit and therefore more income inequality.
I guess Kangas is one of the reasons why many evangelicals are claiming there's a war being waged against Christmas.
A Washington Post columnist poses this:
"What, exactly, is so threatening about calling the school holiday a winter break rather than Christmas vacation?"
And does any American recall that our 1796 Islamic Tripoli Treaty, drafted under George Washington and signed by John Adams, says that "the government of the United States is not, in any sense, founded upon the Christian religion"?
I've stayed out of the whole brouhaha. I'm a non-religious person who celebrates Christmas with great gusto - tree, gifts, cards and Santa Claus.
I wish you a merry Christmas even though I know that comes from Cristes Maesse, the 11th Century English term for the Mass of Christ.
Yes, merry Christmas to all of you MidWeek readers of all faiths and non-faiths.
It's an exhilarating holiday - for whatever reason.
Correction: The Dec. 6 Just Thoughts column erroneously said Chief Justice Oliver Wendell Holmes ruled the 1917 Sedition Act to be unconstitutional. He called it a constitutional emergency wartime measure.
Most Recent Comment(s):