Movie Awards, PBS, Moped Law

By
.(JavaScript must be enabled to view this email address)
Wednesday - January 02, 2008
|
Share

Del.icio.us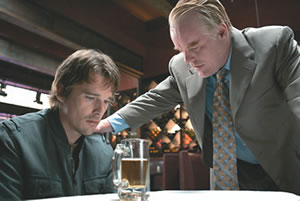 Ethan Hawke and Philip Seymour Hoffman in Before The Devil Knows You're Dead
Let's start a new year of Just Thoughts columns with a trip to the movies.
Are movie critics and awards granters out of touch with what people like? Blades of Glory and Fantastic Four were not as bad as most critics said they were. Shooter was much better than most rated it.
Peter Bart of Variety asks: "If the established media want to stay relevant, shouldn't their critics make a passing attempt to tune in to pop culture?"
Criticism is on the skids when Roger Ebert gives three stars to that preposterous Astronaut Farmer about a rancher launching a homemade, manned space capsule as his 15-year-old son runs mission control!
Here are my 2007 Oscar picks.
Best Movie: I was hot for Into The Wild until the 11th hour, when I decided that Before The Devil Knows You're Dead is the pick of the litter. I might have selected No Country For Old Men, but the plot was implausible. Guy walking around town with an oxygen tank and a rifle with a silencer the size of a moped muffler?
Best Actor: Samuel L. Jackson in Resurrecting The Champ - not Ben Kingsley, who was horribly miscast as a Polish-American hitman in You Kill Me.
Best Actress: Ellen Page who - fresh from her stunning debut in Hard Candy - displayed big-time star quality in Juno. Not Angelina Jolie, whose collagen cow-lips ruined any possible enjoyment of A Mighty Heart.
Best Supporting Actor/Actress: Ben Foster, the psychotic Charlie Prince in 3:10 To Yuma, and Amy Ryan as the worst mother in Boston in Gone Baby Gone.
Best Screenplay: American Gangster. It also gets my nod for Best Cinematography and Best Director.
Best Costume Design: Rita Ryack's stunning clothing for Hairspray.
Worst Movie Idea:
Grindhouse. Who sits through 3:15 of any movie? There were six people at my showing at the Ward-16, and two walked out at halftime.
Best Movies Hardly Anybody Saw: This Movie Not Yet Rated, the devastating hit on the MPAA's secret board that rates what's morally right or wrong about movies and obviously hates sex worse than violence against women. Shown only at the Academy of Arts theater. And Milos Forman's Goya's Ghosts, set in the time of the Spanish Inquisition. Shown only at the Regal at Dole Cannery.
Worst Sequel: Ocean's 13. Warner Bros. spent many tens of millions for Clooney, Pitt, Pacino, Damon, Garcia and Cheadle but obviously nothing for script, photography, direction or special effects. A mumbled bore of a movie.
Worst Sign-Up Decision:
Cary-Hiroyuki Tagawa lowering himself to the racial-stereotype role of Mysterious Asian Man in Balls of Fury.
My Top dozen movies of all time, not in any order:
Casablanca, Gone With The Wind, Wizard of Oz, The African Queen, Psycho, The Pink Panther, From Here To Eternity, Fargo, The Godfather I, Breaking The Waves, Chinatown and Midnight Cowboy.

PBS-Hawaii-TV just cannot get up a head of viewer steam. That was painfully evident in the latest Nielsen ratings book.
The heavily promoted interview with former Hawaii anchor-man Bob Sevey only drew 2 percent of all Oahu homes with a TV, and only 3 percent of those watching TV in that time period. The Leahey & Leahey sports show got 1 percent of homes with TVs, and 3 percent of those turned on when Jim and Kanoa were chatting in the kitchen.
Antiques Roadshow, KHET's best, only draws about 4 percent of Oahu homes.

Last month I mentioned an amended City ordinance that prohibits moped parking at bike racks on town sidewalks. I was cited for parking at one.
Well guess what? District Court Judge Leslie Hayashi agreed with my argument that (1) mopeds are licensed as bikes and (2) if they're to be prohibited, the City needs to post signs at bike racks saying so.
The police case against me was dismissed with prejudice.
I thought all moped users would want to know.
Most Recent Comment(s):