No Real Lingle Foes, Palace Moons

By
.(JavaScript must be enabled to view this email address)
Wednesday - August 30, 2006
|
Share

Del.icio.us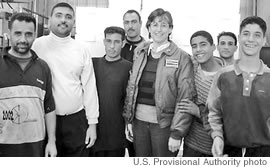 Gov. Linda Lingle during a February 2004 Iraq visit
with Iraqi factory workers. Note her protective vest
The opposition clearly took a dive on the Hawaii gubernatorial race this year.
The Democrats, Greens and Libertarians could not find somebody to run against Linda Lingle?
Lawyer Randy Iwase (D), public-access TV guy Jim Brewer (G) and comedian Ozell Daniel (L) don't count as somebodies because they have faint support and recognition outside their families and friends.
Lingle has vulnerabilities that could have been exploited by a talented, crowd-rousing, stump speaker with professional campaign management and deep pockets.
She posed flak-jacket-under-shirt in Iraq. Look how a little softness on that war clobbered Sen. Joe Lieberman.
Somebody could have asked why Lingle considers George Bush to be "our greatest president ever," said he has "pulled our nation's economy out of the recession he inherited and put us on the right track," and claimed "he has turned our country around by following his strong convictions and doing what he believes is right."
Lingle could have been slammed for her failure to get Hawaii a new prison (the state was offered the King's Landing site on the Big Island) and her plan to harmfully splinter the Board of Education (that went nowhere).
Lingle was potentially beatable by a Case-and-Hanabusa ticket (why Ed Case didn't make a second run at governor beats me). Or better, Walter Dods with Harry Kim. Dods would have drawn heavy Democratic votes on Oahu, Kauai and Maui, and Kim would have been the anchor-man for the Big Island.
Lingle hasn't been a bad governor - she has panache, and she wisely shores up her right wing with Lt. Gov. Duke Aiona as the boogey man on drugs and moral decay. She keeps the left by allowing the cigarette and transit taxes and stomping on Mufi Hannemann's instep with homeless solutions for Oahu. All good moves for a politician.
She's just not an exceptional governor. The Legislature so easily suffocated her.
If I had been the opposition, I'd have run her with-Bush videos and photos until they were all anybody knew about her. But that costs money, and the three opposition stooges set up as fish-in-barrel general-election targets - Iwase, Brewer and Ozell - would be hard up to raise a couple of million bucks among them even if the election were not until 2008.
Our living Democratic governors - Ariyoshi, Waihee, Cayetano - must go nuts over their sexy party gone impotent at the top.
Our other living Republican governor - Bill Quinn - would be dancing a jig if his advanced age allowed it. He'll probably be sipping a Bushmills and singing When Me Party's Eyes Are Smiling come late evening Nov. 2.

I'm not sure it was such a great idea for Sen. Sam Slom and Rep. Barbara Marumoto to stage their own Statehood Day rally at Iolani Palace.
Not at that venue when sensitivities are running so high. It was like Ariel Sharon visiting the disputed Temple of the Mount. That set off the second intifada by Palestinians.
And I wish the Hawaiians and part-Hawaiians who protested the ill-advised Slom-Marumoto event had been civil. They shouted obscenities and spat, and one man mooned the crowd. Did no favors for Hawaiians.
But I take exception to Hawaii Reporter's editor and president Malia Zimmerman writing them all off as "a pack of snarling gangsters." That's not reporting. That's invective as bad as any the protestors used. It's junk journalism.
It was very bad judgment for Sen. Slom to expose the Kalani High School band to such a volatile event (the band packed hurriedly and left without playing), and for Rep. Marumoto to come to the palace dressed as the Statue of Liberty.
This event could have been held at the Capitol. It was held at the palace as an in-your-face move by Slom and Marumoto. It was inviting intervention.
Some people see gasoline and immediately think "light a match."
Most Recent Comment(s):