Not Religious, But Loving Christmas

By
.(JavaScript must be enabled to view this email address)
Wednesday - December 22, 2010
|
Share

Del.icio.us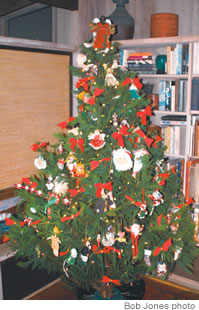 The Jones family Christmas tree
Merry Christmas, and I cannot imagine our family life without this holiday, even though the religiosity is not central for me. Do you know that 16 percent of Americans say they have no religion? Among those age 18-29, it's one in four.
We've put up a locally grown Leyland cypress with a slight smell and no slugs or bugs. It's an evergreen but not a pine, even though it produces cones. It doesn't drop any needles.
A black angel in a red robe is at the top. As for all the lights and decorations - many of the latter religious - our only requirement for inclusion is that the ornament be gorgeous and handmade.
We've collected those for 40 years around the world.
We play Christmas carols, and while I'm decorating the tree I play the Messiah. I sang chorus and tenor solo in that oratorio in college. George Frederick Handel composed it in 1741 and it's his best-known work. You don't have to have religion to get carried away with his aria No. 31, Behold And See. Did you know he composed the Messiah as an Easter work, or that later musicians added instruments and singers well beyond what Handel called for in the original score?
Some Jews and atheists have come to our house with some Christians for 33 years to eat with us at
Christmas. It's about the food, the wine, the companionship - especially the food.
Christmas has become about a great excess of food - especially cookies and cakes and pies. It's like a second Thanksgiving. I know that distresses the very religious. One wrote in these pages recently that we're forgetting whose birthday it is. Well, maybe, but research suggests that Christ had to have been born in the spring.
Newspapers and magazines load up on food stories and diet stories. The New York Times did a piece on the "Egg Not" cocktail at a Soho eatery called Lani Kai. Why bother with what's not the real eggnog? People on the South Beach diet will remind you that the glass of wine you're drinking has 135 calories. Frankly, my dear, I don't give damn!
Anyway, back to our tree. Our top-branch angel spreads her hands and looks over our living room. She seems to be exuding love - or maybe she's wishing my barbecued turkey with Mexican mole, braised beef in white Piedmonte wine sauce, yams with caramelized shallots and leek-sausage stuffing come out OK. Perhaps wishing our daughter well. She's headed to Afghanistan as a diplomat.
It's Christmas, whatever that means to whomever - religious holiday, worldwide cultural and commercial event, date of the winter solstice, Dies Natalis Solis Invicti in the old Roman calendar, or the Pagan Scandinavia, an ancient winter festival.
But you'll never hear "Happy Holidays" from me. It's always "Merry Christmas."
And I'll be serving real eggnog.
Most Recent Comment(s):