Our Lousy Waterfront, Obama, Etc.

By
.(JavaScript must be enabled to view this email address)
Wednesday - January 10, 2007
|
Share

Del.icio.us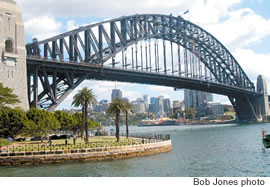 Sydney waterfront with park quite unlike our dumpy
waterfront
I had some out-of-state vacation time recently. That's good for collecting thoughts that elude me at home. Here are some of them:
* It made me weep to see how wonderfully the planners have utilized the waterfront of Sydney Harbor and realize what non-use or misuse we've made of ours. I also came to realize that the UH Medical School and the Cancer Research Center are horribly misplaced structures for that valuable waterfront.
* Do you know we no longer have a transit lounge at our airport? Since 9/11 we've been requiring passengers transiting here (to Canada or Australia, for example) to go through U.S. immigrations and customs and then reboard their planes to elsewhere. A federal agent told me it's to help catch terrorists. Can't Canada and Australia catch their own?
* Our Wiki-Wiki airport buses embarrass me. Old and noisy. Too small. Jammed with grumpy passengers struggling with their bags. First-timers must feel they've arrived in the Third World.
* There's a small troupe of Hawaii folks beating the drums for Barack Obama for president of the U.S. Drummers Brian Schatz and Chuck Freedman say he "empathizes with the plight of native Hawaiians and understands our unique economic, environmental and cultural position in the world" - I guess because he was born here and attended Punahou, where I'm reliably informed he was much, much less than a stellar student.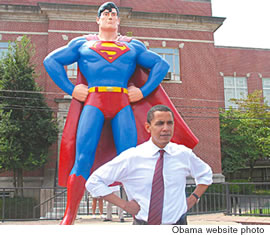 Barack Obama in front of Superman statue
But who is this guy? He's an ex-Illinois lawmaker and short-term U.S. senator with no remarkable legislative record and no experience as an executive. He seems nice and he's part black and that's about it.
Americans have this weird tendency to leap toward likeability without looking beneath the surface for solid ground. Why back somebody who so far hasn't done squat except get himself elected?
* Would you object if your child's teacher or some clerk in a government office wore a Muslim veil or a scarf over her head?
That's a big issue elsewhere. France and Belgium have banned headscarves for schoolchildren. Germany and Denmark ban them for teachers. Government leaders in Britain and Australia say Islamic headwear shows a lack of cultural integration.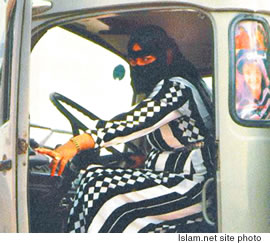 A veiled woman illustrates the problem of cop-stop of
veiled drivers
I find most dress codes to be bad public policy and "cultural integration" another way to say conformity. I don't care if you dye your hair green and only speak Esperanto.
Obviously, you cannot have your driver's license or passport photo taken with your face covered, and no Muslim woman can refuse to show her face to a police officer on request.
But I for one could not give a hoot if a student or a teacher or the issuer of park permits elects to wear a headscarf.
A full face veil? That's obviously a problem in school or in functions where face-to-face communication is expected and we take our cues from facial expressions.
But aside from the very obvious situations, why get your knickers all twisted over individual attire?
Most Recent Comment(s):