Out-of-the-way Big Island Finds

By
.(JavaScript must be enabled to view this email address)
Wednesday - April 15, 2009
|
Share

Del.icio.us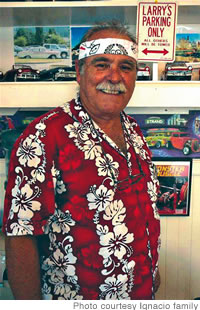 Larry Ignacio: He built it and they did come
One of the regular stops on my annual Big Island pilgrimage to the Merrie Monarch Festival is in Laupahoehoe at the Back To The 50s Cafe. It's a hoot! You really are back in the 1950s.
It's not just those old-fashioned in-booth juke box selectors. It's the Elvis Room and the bathrooms - one done in a Betty Boop motif and the other is Happy Days - it's Fonzie's "office" complete with red phone.
And the map on the main-room wall has been stuck by so many visitors'hometown pins they're on their third map - people from every state but not quite every country.
Laupahoehoe native Larry Ignacio got the idea for the retro cafe. He's a '50s kind of guy and the official greeter. He took over a falling-apart restaurant, put up his own money, invested sweat equity and had a gut feeling that if he built it, people would come. They did.
So many, in fact, that he couldn't handle it alone. So he persuaded son Chris, a private school teacher in Honolulu, to come home and cook. Chris says: "Dad is 70 years old, I am 40 this year, my wife Kendra is 38. We had our first baby about two years ago. We did see a decline in business with the drop in tourism. However, the local population is keeping us going, and we are truly appreciative of this."
The menu is basically build-your-own burgers, fries, shakes, plate lunches - and great homemade pie. But you can choose from almost 200 items on the menu.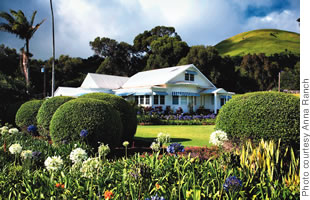 Anna Ranch is open for tours
Put it on your itinerary. You'll not regret the side trip. Another place that doesn't seem to have made a big splash yet on the travel brochures is Anna Ranch in Kamuela (or Waimea, as it's known by the post office.) It offers tours now and you should go, even if you've already visited the better-known Parker Ranch.
It was a family ranch since 1848 when Anna Leialoha Lindsey Perry-Fiske's great-great-grandparents, James Fay (from England) and Kaipukaiikapuokamehameha Kahahana, bought the land from a Hawaiian fellow for $100. Anna eventually ran the ranch until her death in 1955. Now it's a heritage center in a gorgeous setting on the road between Kamuela and Kawaihae. Call (808) 885-4426 for tour days and hours.
I've grown rather weary of overbuilt Kamuela, a town I fell in love with when I came to Hawaii 46 years ago. Then, there were no fast-food outlets, and cowboys pulled up to the lounge and restaurant on their horses. There were no traffic lights or congestion. Now it's a road nightmare mornings and late afternoons - and a gaggle of unattractive malls.
An exception to the latter is Parker Square, which fits in architecturally and has a general store of quality gift goods, and an excellent Asian antiques outlet, Silk Road Gallery. It's a good browsing place.
People rave about Merriman's restaurant. I just happen to be more of a Cafe Pesto guy. That's down the highway in Kawaihae. The Edelweiss closed. It was my favorite meat-and-potatoes place. Luckily, chef-owner Hans Peter Hager still sells his yummy tarragon dressing in Oahu supermarkets.
Most Recent Comment(s):