Peddlers Busted; Gunning For Trouble

By
.(JavaScript must be enabled to view this email address)
Wednesday - September 14, 2011
|
Share

Del.icio.us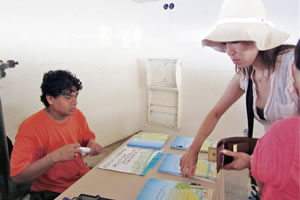 Puri takes $2 from a Japanese visitor. Bob Jones photo
Following up on my Aug. 31 column about peddlers doing business inside Diamond Head:
Last Thursday, the state Attorney General's office issued a cease-and-desist order to Randall Frost and Krishna N. Das, aka Puri Das. Representing Sri Sri Krsna Temple, aka Sri Sri Radha Govinda Society, and working from a bunker at the top of the crater, Puri had been offering (for a $2 donation) stamped I-climbed-Diamond-Head certificates from the "Diamond Head Preservation Society," although no such charity is registered.
The order prevents them from further activity in the crater until they respond to the AG's office, and further orders them to "cease and desist from making false, deceptive or misleading statements in the solicitations of contributions."
Don't be surprised when other Diamond Head peddlers receive their own cease-and-desists.

News item: Hawaii residents have registered guns at a record pace for each of the past four years. Over the last two years, 24 states have passed new laws loosening gun restrictions. Texas OKs concealed guns for professors and students on campuses.
Last week's shooting at a Carson City, Nev., restaurant illustrates that bad people always manage to get guns. But would the outcome had been any better if most people in the IHOP had drawn their own guns and bullets were flying everywhere?
I've been against non-law-enforcement citizens carrying handguns most of my adult life. I think it goes back to an incident when I was 19 and a rookie police reporter for the St. Petersburg Times while in college. I was covering the trial of a young man, who had been bashing and sexually assaulting women at late night bus stops.
I owned a .22 revolver, carried it in the glove compartment of my company car and left it on my bedside stand at night. Why?
Thought it was cool.
One night my doorbell rang. When I opened the door, the father of the lad on trial barged in and pushed me so hard I landed on my back by the bedside stand. "You're ruining my son's life!" he yelled in a rage. I grabbed my gun, pointed it at him, but didn't pull the trigger. I sure was scared out of my wits.
The father collapsed in a chair, crying. His rage was spent and he was ashamed. We talked, he apologized and left. If I'd shot him, I'd have been on the paper's front page next morning, and maybe facing charges for excessive use of force against an unarmed man.
I never had a gun again, except for a brief period during the war in Vietnam, when I'd sometimes go out as a reporter with fouror six-man bush patrols and I figured it wouldn't do any good to yell to the Viet Cong "Press! Don't shoot!"
I don't get caught up in Second Amendment arguments. I leave those for the courts. I just cannot imagine a society where everyone packs a gun on the theory that you can start blasting away if somebody else does.
I saw a silly comment after the Fort Hood incident that recommended arming all soldiers on all bases. Yeah, right, 18 and 19year-olds with high testosterone and some bad drinking habits packing heat.
It's true that even with strict gun-control laws, bad people will find ways to get guns. Criminals will get guns. Crazy people will get guns. We will have Tucson, Honolulu Xerox, Fort Hood, Columbine and Virginia Tech incidents.
But we'd also have more in-home, in-bar and neighborhood shootings if guns are readily available.
I don't have an answer to prevent all the murders in America 70 percent of them by gun. But I know I don't want to live where everyone's walking the streets with a gun tucked in a belt or a handbag.
Most Recent Comment(s):