Poor Akaka Advice, Say's House

By
.(JavaScript must be enabled to view this email address)
Wednesday - September 13, 2006
|
Share

Del.icio.us
This will be my final politics column before the primary. I don't like late hits. This only deals with style (no endorsements or predictions) in the primary and with two candidates who don't clash until the November general.
A person whose local political smarts I admire suggested to me that Sen. Dan Akaka's handlers screwed up. I agree.
In the debate photos, Akaka's conferring with for-hire mouthpiece Elisa Yadao. Ed Case is getting his tie checked by his wife, Audrey.
And why, my experienced observer asks, didn't they have Akaka say in his summation:
"You know, I'll be 82 this month and I'm not as sharp as I was at 42. But I'm not a bumbling idiot in a wheelchair with a drool rag. I'm a functioning senator with a lot of seniority and an experienced Capitol Hill staff - people who have worked in Congress much longer than Ed Case has been in Congress.
"I want a new term to give you better medical insurance, better benefits for veterans and get us out of this damn war. I may not be a smooth talker, but I vote the way much of Hawaii thinks."
Instead, the handlers let Akaka read from a folder and bumble along. He could have been out-debated by the scarecrow from the Wizard of Oz. If he loses Sept. 23, his handlers lost it for him.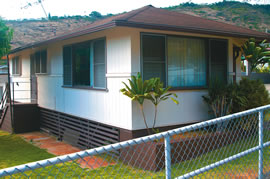 Where's Calvin? Not at his home in the district he
represents
I like state Rep. Calvin Say, Democrat, Palolo, St. Louis Heights, Wilhemina Rise, House District 20. But he doesn't live there. He lives in Pauoa Valley, District 13. Has for many years. Not in the 1822 10th Ave. house that seems to qualify him under our loosey-goosey election laws as a Palolo resident.
He is technically qualified by home ownership, but if he doesn't live full-time in the district, how is he connected with the voters and their concerns?
Scaring the bejesus out of him in November by voting for Republican Julia Allen would send a clear message to others who are fudging on residence.
We could and should change the residency requirements.
Hawaii Revised Statutes 11-13: The residence of a person is that place in which that person's habitation is fixed, and to which, whenever the person is absent, the person has the intention to return.
Calvin Say says he and his wife moved to Pauoa to care for a relative. He claims he has not abandoned his 10th Avenue house in Palolo, even though he has the tax assessment for that property sent to the Pauoa address.
Our law also says: The mere intention to acquire a new residence without physical presence at such place does not establish residency, neither does mere physical presence without the concurrent present intention to establish such place as the person's residence.
Say manages to finesse a bad law.
My point is that the law does-n't disqualify Say (the City Clerk has upheld his right to run as a 20th District candidate) but if I were in his shoes I'd have disqualified myself or run and voted in the Pauoa district.
That would be the fair and ethical thing to do.
Fair and ethical.
Anybody remember those words?

You know why the turnout of voters is so low in Hawaii?
We don't have "None Of The Above" as a ballot choice.
We should have that. Somebody would always be elected under the legal presumption that the person with the most votes wins.
But we could express our general displeasure.
Imagine some House district candidate winning with, say, 120 votes while 1,200 voters select "None Of The Above."
The possibility quickens my heartbeat!
Most Recent Comment(s):