Predicting A Mufi Landslide

By
.(JavaScript must be enabled to view this email address)
Wednesday - August 06, 2008
|
Share

Del.icio.us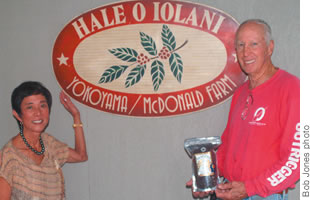 Jean NishigayaYokoyama and husband Bob McDonald
My take on the primary mayor's race next month?
Ann Kobayashi is well-liked but also is 71 and lost in 1994. Panos Prevedouros is the roads-not-rail candidate and has zip political experience. Mufi's marking time for guv, U.S. rep or senator, but benefits from those local newspaper polls showing at least 60 percent of Oahuans favoring his rail transit and only 24-30 percent (depending on the poll) opposing.
I'd guess the Mufster does 51-55 percent, 25-30 percent for the Kobs, maybe 10-15 percent for the prof.
OK, the feds have declared a vog disaster for Big Island farmer's crops affected by the sulfur dioxide, arsenic, mercury and cadmium spewing out of Kilauea. How about human health?
Kailua-Kona has become vog town most days after 10 a.m. Upland communities live in the stuff. Can't be OK for infant lungs, but what's the solution other than evacuation?
Is Kona coffee worth its price? Or is my California friend on the mark that "its marketing problems are that it is expensive and when brewed tastes suspiciously like mud."
So I went on a research mission to Kona and visited the farm of a Punahou grad who's taken up the coffee life there.
You read conflicting opinions about Kona coffee. The Kona Coffee Council claims it's the world's best and "rocky volcano slopes nurture it. Sun-drenched mornings ripen it. Misty afternoons refresh it. Six hundred farmers meticulously handpick it."
But the president of Peet's Coffee wrote some years ago that "On its own, Kona is too light and one-dimensional to get our endorsement, and it's too expensive to represent a good value to Peet's coffee drinkers." Ouch!! I checked Peet's current website and they are offering Kona, at $24.95 a half pound and advertising it as "mild and smooth with sweet flavors reminiscent of the tropical comfort enjoyed on the Big Island."
One big problem is that too many hotels - even the fantastic Outrigger Keauhou Beach - put 10 percent Kona blend in their rooms. The other 90 percent may be low-grade Robusta from Brazil. An unsophisticated drinker sips that and says, "Boy, Kona coffee sucks!" That opinion gets passed on.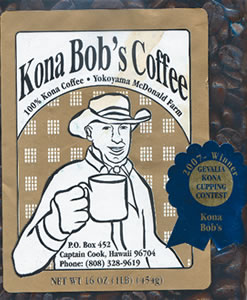 As good as Kona coffee gets
Then there's fraud. In the '90s, Kona Kai Coffee Co. owner Michael Norton was nicked for buying 4 million pounds of cheap Panama coffee, putting it in bags marked "Pure Kona" and reselling it. Today, state inspectors check the bean origin and quality in every sack of Kona coffee leaving the mills.
Jean Nishigaya Yokoyama (Punahou '58) and husband Bob McDonald farm seven acres above Kealakekua Bay. They pay Guatemalan temps $150-$200 a day to pick. They process at the neighboring Koa Coffee Co. mill instead of the main farmers' co-op, and sell as Kona Bob's at $22 a pound in stores. The co-op only pays about $1.55 a pound for ripe coffee cherries. "I've got to process, package and sell myself, otherwise there's so little profit it's not worth the work," says McDonald.
Coffee is a $35 million a year crop in Hawaii with more than 7 million pounds produced - about 4 million of that on the Big Island. Only about 6,000 acres in coffee now, half of that operated by 635 growers of Kona Typica on the Big I s l a n d . Good Kona coffee land sells for $100,000 an acre.
There are no federal or state subsidies. A grower with about 25 acres might be able to make $50,000-$60,000 a year. There's heavy competition from well-marketed estate coffees from the other islands - all selling much cheaper than Kona.
The best all-in-one-place source for local coffee facts and farm tour info is The Hawaii Coffee Book by Shawn Steiman from Watermark Publishing.
Why did our government ever allow those vacation rental homes on the water at gorgeous and historic Kealakekua Bay? That land should have been condemned and added to the adjacent state park.
When you see all those vacation rental signs right across from the heiau and park, it's enough to make you weep for what we've not preserved.
Most Recent Comment(s):