Problems With Obama's Policies

By
.(JavaScript must be enabled to view this email address)
Wednesday - January 21, 2009
|
Share

Del.icio.us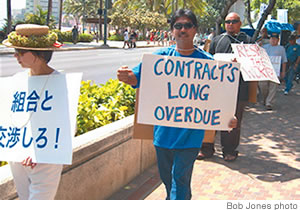 ILWU pickets the Pacific Beach Hotel
There may be some diehards who think ignorant voters elected the least-qualified candidate for president this time, but I sense that most Americans could hardly wait for Barack Obama to take the helm. T&C Surf Designs is already out with a Hawaii-themed inaugural T-shirt.
Not that I don't have disagreements with Obama.
I'd not spend $40 million to $50 million on an inauguration spectacular plus encourage those $150-per-person balls when people are losing their homes. I'd just quietly take the oath of office.
I'd not have that evangelist pastor Rick Warren anywhere near the White House.
And I'm not in tune with many of Obama's labor policies. I'm pro-union, but only when I sense the union is on the right side of an issue. Some examples of where unions and I part company:
I cannot side with the ILWU, which won representation by one vote at the Pacific Beach Hotel in Waikiki, but hasn't been able to get a contract for four years. The ILWU has encouraged Japanese tour operators not to use the hotel. Occupancy dropped off, so the hotel hasn't re-employed more than 30 laid-off workers.
I don't support the Obama effort to eliminate secret ballot voting for union representation. He says union organizers should be allowed to get workers to sign pro-union cards. You mean like the old Soviet Union where they said "sign here if you're for the Communist Party"?
I'm a believer in a teachers' union, but it must support a merit-pay system for teachers with advanced-degree work and the ability to raise their students'performance. The Washington, D.C., schools chief has proposed doubling the salary of high-performance teachers.
Obama says if a union and management can't come to contract terms in 120 days, the matter should go to a binding arbitration panel that imposes a contract for two years. I like arbitration but not binding arbitration for union contracts. The strike is the best incentive for parties to reach agreement. It's nuts to have government mandating that unions and management in private commerce must settle or else.
Obama supports a law to keep employers from replacing striking workers. Past efforts to impose that on federal contracts - on national security concerns - got batted down by the courts. This would water down the power of the strike.
Obama should make the car companies and their union dump those "job banks" as a condition of financial aid. That's the system that gives full pay and benefits to workers who don't work but wait around to see if they'll be called back to work.

Let's see if I have this right. The father of dead motorcyclist Wayne Medeiros Jr. says his son did not deserve to die like that in a crash in Waipahu as he fled from police.
In fact, he was only fleeing because:
* He'd been stopped for speeding.
* He had methamphetamines in his blood.
* He didn't have a driver's license.
* He feared jail because he was behind on support payments for six children from two relationships.
Were police actively chasing him as he sped away from the stop? I would certainly hope so. Would you prefer a policy that those who run from police be given a free pass?
"My boy just wouldn't be speeding down Waipahu Street without somebody chasing him," says the elder Medeiros.
Any parent can understand his grief, but the cops say he was definitely speeding down Kamehameha Highway without anyone chasing him, then took off after being stopped and sped down Waipahu Street.
Chase or no chase, no blame goes to the police on this one.
It all rested on Wayne Medeiros Jr.
Most Recent Comment(s):