Reasons Why Spitzer Cheated

By
.(JavaScript must be enabled to view this email address)
Wednesday - March 19, 2008
|
Share

Del.icio.us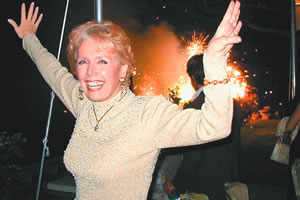 Sex therapist Diana Wiley: Why some husbands stray
What's everybody talking about around the water cooler and in the company lunch rooms? Not Ben Bernanke and the latest Fed money moves. It's Eliot Spitzer and his maybe $80,000 expenditure on call girls.
We can't figure out why somebody so high and so visible would check into a premier hotel under the name George Fox and rent a second room for Kristen-the-hooker. I mean, it's the Mayflower and everyone from the desk clerk to the bellboy is saying "that ain't no George Fox, that's Governor Spitzer!"
So, why do the high and mighty - or even the low and powerless - cheat on their spouses or significant others and run the big risk?
I'm no expert. I have some ideas, and I talked with board-certified sex therapist Dr. Diana Wiley, who did radio shows here on KHVH and 1420 AM. (She says she dated Bill Clinton when he was a Rhodes scholar in 1969. She was a MidWeek cover in 1998.)
Wiley says "many women don't appreciate the effect of regular sex on their husband's mental and physical health. To keep a marriage happy, a woman must be available for regular sex."
Here are some of the reasons for outside-of-marriage dalliances:
1) Sex addiction. It seems to afflict men more than women. Guy sees a hottie or a woman who shows interest and his glands go into overdrive. I say seems because more men get caught publicly in this than women. But news stories only tag men in big-time jobs, and the reality is that more men than women hold big-time jobs. So maybe there's equal female sex addiction. It just isn't in the headlines ... yet.
2) The thrill of the illicit. Remember John Rechy's City of Night and Sexual Outlaw about gay men meeting in restrooms and parks? He said it was that public sex and the potential of being caught that made it erotic. Wiley says "during risky sex adrenaline is high and for some couples who have been together a long time, this is how they jazz up their relationship."
3) The more exotic. Wiley agrees many spouses don't provide the kind of exotic or non-traditional (oral, anal) sex their partners desire. She says the testosterone and dopamine levels go down and the sexual depressant oxytocin goes up.
About the current New York case, Wiley says, "Spitzer is like many wealthy men - and especially some narcissistic politicians. He felt insulated, invincible, untouchable. He no doubt was sure he could get away with it. Morality and what he might do to his family did not matter. With power often comes arrogance and entitlement."

Virginia has enacted a law against French kissing anyone under 13 years of age. It's a one year in jail misdemeanor and conviction means you must register as a sex offender.
It's another of those cases where well-meaning lawmakers get too far out on the edge. What's the evidence to be? He said, she said? I can't imagine any outside witnesses to a French kiss.
What's to be the proof of penetration of the lips by the tongue? DNA swabs right afterward? A 12-year-old is going to run out in the street, yelling for the cops, "he kissed me and it was the French kind!"?
A GOP lawmaker introduced the bill on behalf of a woman whose 10-year-old daughter was French-kissed by the 62-year-old husband of her baby sitter. The only "no" vote was by that law-maker who pushed the bill. He wanted the offense to be a felony.
If you enter French kiss in Google you'll get several dozen sites of advice on how to perform that particular lip lock. Why it's called French is a puzzlement. Why it should be considered in Virginia as more of a sex crime than, say, just kissing someone under 13, is equally puzzling. Well, I guess we casually kiss kids, don't we? Should there be, maybe, a two second limit on such kisses on those under 13 and five seconds between ages 13 and 15?
My favorite French kiss site on the internet says "you must go Dutch on a French kiss." That opens up an entirely new international dilemma for the Virginia courts. Did the 12-year-old go Dutch on French? If so, was she or he legally-mentally competent to accept or resist Dutch-French?
This has better Gridiron Show skit potential than when Gov. Ben Cayetano vetoed the bill to raise the age of sexual consent in Hawaii from 14 to 16. Except that it's not here. Auwe!
We're the enlightened state. We still allow sex with 14-year-olds and unlimited French kissing.
Most Recent Comment(s):