Recalling Thanksgiving In Vietnam

By
.(JavaScript must be enabled to view this email address)
Wednesday - November 25, 2009
|
Share

Del.icio.us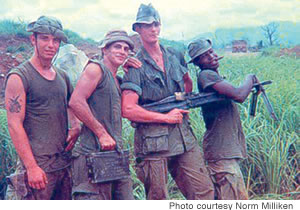 Norm Milliken (second from left) and buddies on a Thanksgiving Day in Vietnam. The turkey never came
This Thanksgiving, the aging memory functions of my brain take me back to a long-ago November and a small restaurant in downtown Saigon.
We thought the Vietnam war might wind down. It would, for a while, and then heat up again and send all of us combat-weary correspondents back where the shooting was.
But as Thanksgiving Day approached, I thought we at NBC News and our colleagues at Associated Press should have a real American turkey day dinner - something foreign, of course, to the Vietnamese who cooked at all of Saigon's best restaurants. I picked Ramuntcho, an eatery just below our office.
I found a turkey, the makings for stuffing, yams, salad fixings and canned pumpkin for the pie. Also, sage and other herbs for the stuffing and cinnamon and nutmeg for the pie.
My next chore was instructing Ramuntcho's cooks on the fine points of preparing a proper Thanksgiving dinner. I patiently explained every recipe.
We took over the restaurant that night, and as soon as I came in to make sure the table decorations were right I could smell that roasting turkey and it was like being home.
The guests arrived. The turkey arrived, well-stuffed. It was gorgeous and aromatic, but something smelled slightly amiss. The cooks had liberally spiked the stuffing with cinnamon and nutmeg, and rubbed it into the turkey skin as well.
That could only mean ... yep, they had made the pumpkin pie filling with liberal doses of sage and other stuffing herbs!
I didn't complain. I like to think of Army machine-gunner Norm Milliken, now a retired schoolteacher, then out on a ridgeline near Laos, hoping for eats that would not come. He wrote: "Everyone wanted that food. Potatoes with gravy and turkey with stuffing. Cranberry gel and bread. Maybe even butter.
"Finally, two Chinooks (helicopters) over the horizon, cargo nets hanging beneath them. We wanted those nets to have hot food containers. Thanksgiving dinner there in the hills, 10,000 miles from home. An unloading party was organized. The nets were cut loose. The choppers
flew away. There was ammo re-supply, C-rations and a huge bag of heat tabs. Thanksgiving dinner would be C-rations as hot as we wanted them. You could've cut the disappointment with a dull knife."
I'll remember that this Thursday as I sit at my friends Lynne and Joe's house with fine wines and food fit for royalty.
Cinnamon/nutmeg in the stuffing and sage in the pumpkin pie ain't all that bad.
Beats C-rations cooked with a hot tab.
Most Recent Comment(s):