Rediscovering The Joys Of Maui

By
.(JavaScript must be enabled to view this email address)
Wednesday - May 26, 2010
|
Share

Del.icio.us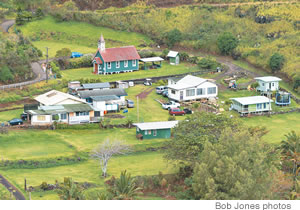 Old Kahakalau Village on Maui's north shore
It wasn't long ago that I'd never have considered a vacation on Maui, with all its Kihei-Wailea condos and that crazy airport.
Then came high flight prices, and staying close to home looked better. Also, Maui grew up. It became a fun place.
I've driven and visited almost everywhere. Once you escape Dairy Road, it's about the majesty of Haleakala at 10,025 feet and Mauna Kahalawai at 5,788 feet.
I love Lahaina. Andrew Doughty writes in Maui Revealed: "No matter how much you curse its popularity, you can't deny Lahaina's charm. It's busy, tacky, weird and wonderful."
My favorite stay is the Lahaina Shores on the south end of town. No clue how somebody got the permit in the 1970s to build the town's only high-rise and right on the ocean.
My favorite restaurants are there. Mala Ocean Tavern, Pacific'O and Betty's at 505 Front St. isn't fancy, but you can have dinner for about $25 and watch the show at adjoining Feast at Lele, for which those diners are paying $105. Gaby's does great seafood and Mediterranean pizza rolls to go.
My only complaint is all the Mainland faces of employees. People come expecting to see Polynesians.
There's so much to do. Horseback riding at 4,000 feet on Haleakala at Thompson's Ranch, the five ziplines at Piiholo Ranch in Makawao (a better adventure if you get Luke, Eddie and Hillary as your instructors). Julia's banana bread stand in remote Kahakuloa. The odd Makena Grill across Makena Beach, run by a strange lady cooking hot dogs and quesadillas on a towed trailer. The aquarium at Maalaea Harbor compares favorably with Monterey's.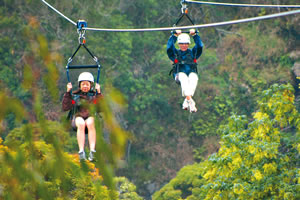 That's KITV's Denby Fawcett (right) on the Piiholo Gulch zipline in Makawao
Visitors overlook North Market Street in Wailuku with Marc Aurel's cafe, Brown-Kobayashi antiques, Native Intelligence handi-crafts and Bohemia Boutique's vintage clothing for women. Street parking is free! You can stay in the Maui Seaside Hotel for $89 a night.
Road trips? The Hana Highway for sure. Kahakuloa to Waihee will test your single-lane-cliffside driving skills. Piilani Highway is posted for 30 mph paralleling Kihei Road, but most do 50-55, which is more reasonable. The Honoapiilani Highway between Lahaina and Maalaea is posted at 45 mph and double-lined, but people keep passing and killing themselves and others.
I've run out of space to cover the lavender and goat cheese farms and the joys of Keanae village. Save some time for those and the shuttle boat that runs from Lahaina to Lanai.
Have a $9 Cheeseburger in Paradise as the waves slap against the open, old, wooden Lahaina building. I assume a building inspector said it's still OK.

The Waipouli Beach Resort on Kauai has shunned room keys and key cards in favor of punch codes like #438672. Plus another code to get to the pool like 3*902902. Impossible to memorize so you write them down, then lose them and can't find anyone at night to issue a new one to get you into your room (lost ones can't be reissued.) Not practical. Aggravating.

While discussing why we allow replicas of guns to be sold, how about the sale of shirts, jackets and hats that say "Police" at the city store at the Ala Moana Satellite City Hall? They look real, with Honolulu police-badge emblems.
Recently shot-by-an-FBI-agent Martin Boegel will be hard to convict for impersonating a police officer. He was wearing one of those fake police jackets the city sells to make money. What say, Mr. Mayor?
Most Recent Comment(s):