Religious, Civil Ceremonies Not Alike

By
.(JavaScript must be enabled to view this email address)
Wednesday - May 13, 2009
|
Share

Del.icio.us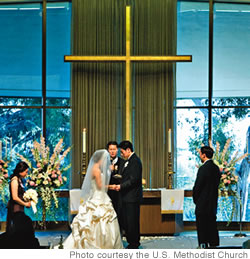 Many Americans still consider marriage a religious event
Civil unions would be a no-brainer if we hadn't inherited an American obsession with marriage as a religious ceremony - a Christian religious ceremony.
David Kidd's book Peking Story tells about him marrying a Chinese woman in 1949. The Chinese only required a certificate signed by the two families. The U.S. government required marriage by a religious authority. Not a Buddhist, Taoist or Muslim - a Christian minister. In France, you must have a civil union before you can have a religious one. In Germany, since Jan. 1, you can have only a church wedding but it carries none of the legal protections of the civil union and you don't get any tax benefits.
We've made bigamy a crime, but can you explain to me why a consensual act between adults should be criminal?
We'd have civil unions if our churches would not interfere. Churches should only tend to the faith of their members. If they want to lobby laws for others, they should pay taxes. The Supreme Court in 1970 said it's OK to grant churches tax exemptions, but we don't have to.

We can be sued for almost anything. About 17 million civil suits are filed in state courts every year, more than anywhere else in the industrialized world. And now some legalists warn that we could be sued if we do random dog sniffs of school lockers and bags.
But suing is not winning. I sense the tide of court opinions shifting to the side of reasonable searches as OK in a time of school drugs and weapons.
Ohio has been successful with this since 1998. There, a principal can search a locker by hand or dog if he has reasonable suspicion that there's a violation of either law or school rules. Ohio no longer allows random searches. I think we can. We've had no problem with random searches for intoxicated drivers.
Canadian schools use dog sniffs of lockers and backpacks.
A New Jersey court has ruled that you can search a student or his locker if he's previously committed any breach and therefore is suspect.
Other U.S. courts have ruled that a dog sniff of school lockers is not a "search" that's protected under the Fourth Amendment. If a dog alerts authorities to a specific locker, that provides the school principal with a reasonable suspicion that the locker contains contraband and that the student who occupies that locker may have violated a criminal law.
Our Board of Education should press ahead with dog sniffs and rules for search. We give up some of our privacy rights in public facilities. We can be photographed on the street or have bags searched at Aloha Stadium. Why is school sacrosanct?

That fuss about renaming Fort Barrette Road to Kualakai Road is much ado about nothing. How about giving Nimitz Highway a Hawaiian name?
I certainly don't have anti-military motives. I prefer Hawaiian names, and we have law that requires that for new roads. But I'd probably leave old names alone. Most new-generation people don't know who Barrette or Nimitz were anyway. They likely don't know who Farrington Highway's named after unless they went to Farrington High School. And they sure don't know the old Kualakai trail.
The City Council recently renamed a park near me Operation Redwing Park in honor of some soldiers and Navy SEALs killed in Afghanistan. It was Ft. Ruger Park, named for Maj. Gen. Thomas Ruger. But we residents will always call it Triangle Park.

Strikes me as too late in the game for the architects and City Councilman Duke Bainum to be calling for an at-grade rather than elevated train system.
Yes, the "El" is unsightly, but it's the price we pay for growing so big and so congested downtown that at-grade would be a road nightmare.


What's with the police shootings? The crazy woman on a street corner with a skewer: You mean the cops couldn't outmaneuver and Taser her? The cop whose foot was run over by a fleeing woman in Waianae fired at her truck at a busy corner. He couldn't just call in the license plate?
Whatever happened to "gun as a last resort"?
Most Recent Comment(s):