Repeating Mistakes Of Vietnam

By
.(JavaScript must be enabled to view this email address)
Wednesday - November 16, 2011
|
Share

Del.icio.us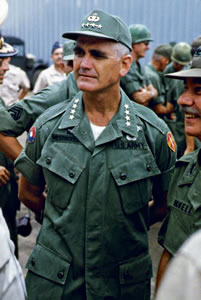 Gen. William Westmoreland. AP photo
Maj. Gen. Peter Fuller, our main training commander in Afghanistan, has been fired for saying the Kabul government "is isolated from reality."
I wish he'd said that we are, too, because I suspect as soon as we leave that place it's going to be "women back into your burqas and girls out of the schools."
All our mistakes of the 18-year Vietnam war seem to be replaying in this 10year one. We are isolated from reality about low-education tribal cultures.
I knew two Vietnam commanding generals: William Westmoreland and Fred Weyand, both deceased. Westmoreland deployed 543,000 U.S. troops to lure the enemy into set-piece battles. They mostly fought phantoms. "Westy" was fighting the previous war he was in commanding the 187th Regimental Combat Team in Korea. He takes a heavy hit for that in Lewis Sorley's book, The General Who Lost Vietnam. Sorley served in Vietnam and taught at the Army War College.
My take from years of covering and writing about that war is that only Weyand understood that winning over villagers was more important than set-piece battles, but by his time in charge we were losing and desperate for a way out. The Viet Cong and North Vietnamese did not want to stand and die. They didn't do suicide bombings like the Iraqi and Afghan militants. They wanted to live. So mostly they did hit-andrun. We'd lose maybe 250 troops in a week.
Those who say we'd have won if we'd stuck it out are dreaming. Most Vietnamese did not want us there exception being the military and political honchos who were making money off us. Like Afghanistan. Who wants a foreign army, even if it bills itself as a liberator?
(An aside: Sen. Barry Goldwater once suggested using low-yield nuclear weapons to defoliate Vietnam's triple-canopy jungles so we could better see the enemy.)
Westmoreland asked me to meet him at the Sheraton Kaanapali Hotel when he was here for a medical checkup at Tripler. He had me read his "white paper" in which he argued that more troops and unrestricted bombing would defeat the North. It was nonsense, but I didn't have the expertise to tell him that. I have no idea why he wanted my opinion. Was he losing it, mentally? Later, he'd call me Bruce instead of Bob.
I am reminded of the disasterous Anzac invasion of Turkey in 1915, of which historian Peter Hart writes: "Thanks to political interference, lethally combined with bullish optimism of generals who only saw opportunities, the Gallipoli campaign was launched into a void that guaranteed failure."

Gov. Neil Abercrombie's new communications director, Jim Boersema, has published a Vietnam war novel, Loveless In The Nam. Boersema with a career as a public relations strategist, Unity House board member and Waikiki casino gambling advocate was drafted in 1968 and did one year as a combat infantryman. He got a direct commission as a first lieutenant and did his final reserve active duty as a colonel with the 9th Corps Augmentation at Schofield Barracks.
.(JavaScript must be enabled to view this email address)
Most Recent Comment(s):