Returning To A Place He Once Fled

By
.(JavaScript must be enabled to view this email address)
Wednesday - October 12, 2011
|
Share

Del.icio.us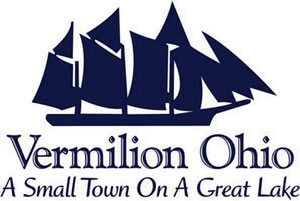 I just went "home" for a family visit.
Until age 16 when I got on a Greyhound bus with $20 in my pocket and headed to New York City, I had lived in rural Ohio, what in 1786 was known as the Western Reserve or the Northwest Territory.
Hard to conceive of Ohio as the West, yeah? But it was. The Army had to kill the Indians so the surveyors could mark off farm plots for Connecticut folks burned out by the Brits during the Revolutionary War.
It was still Johnnie Appleseed country in my time. You could walk for miles through abandoned orchards, wild berry fields and enormous woods, and find Indian arrowheads everywhere. Sheffield Lake our first home was untouched by either Cleveland to the east or Lorain to the west.
Then we moved to Vermilion. It had a population of 4,000. Now it's 12,000. I don't remember a single black or Asian person back then. Today, 96 percent Caucasian, 3 percent Hispanic and 1 percent mixed race.
And I'm sure there always were gay and lesbian people, but we didn't know who they were or even the words gay and lesbian.
Men waited until no one was in earshot in Hart's drugstore to ask the pharmacist for condoms, which were kept out of sight. Infidelities were deep, dark secrets.
The town's only celebrity has been Allie LaForce, Miss Teen USA in 2005.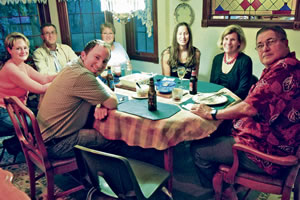 The author at far right with family members enjoying his sister's stuffed cabbage. David Karney photo
Joyce Zelinski, the girl I swooned over at 16, would play pingpong with me in her family's basement. If the ball noise stopped very long her father, Augie, would come down to make sure there was no hankypanky. She's married with grown kids. Still lives there.
My brother Ken does, too. He's a retired cop. And my retired Ford-car-plant brother Tom is still there; my retired schoolmarm-sister Linda is in nextdoor Amherst. Two siblings are dead, as are my parents, and buried in the Brownhelm Cemetery.
I don't recognize much in Vermilion any more, except where Tony's Shoe Store was my first job, selling shoes, at 15. The town now has a very expensive French restaurant, Chez Francois, and a not-expensive Czech restaurant, Old Prague. My sister still makes the best stuffed cabbage on the planet.
The Holmes County Amish and Mennonite country to the south is the prettiest anywhere.
Saturdays are jammed with gawkers and on Sundays everything is closed.
My favorite towns are Marietta on the Ohio River, a 1788 settlement with stern-wheel steamboats, and the People's Mortuary Museum; also the college town of Oberlin, with a fine art museum and a Frank Lloyd Wright house.
Republicans rule in Ohio. The governor is one, as are all non-judicial, elected state officials. U.S. House Speaker John Boehner from Ohio is a no-abortion, no-gay-marriage Republican. The U.S. presidents who came from there are Harrison, Grant, Hayes, Garfield, McKinley, Taft and Harding all GOP except for Harrison the Whig.
So I guess it's a good thing I got out.
Two bummers on this trip: The Ramada Cleveland Airport West hotel is in bankruptcy and looks very seedy inside, and the fiveacross seating on United's 777 jets is true torture of passengers that should be condemned by Amnesty International.
Most Recent Comment(s):