Revisiting The Old Hanoi Hilton

By
.(JavaScript must be enabled to view this email address)
Wednesday - November 29, 2006
|
Share

Del.icio.us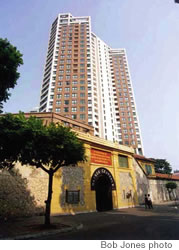 The new Hilton in Hanoi
I've made visit No. 3 to Hoa Lo Prison, the complex that held American POWs during the Vietnam War and which they sarcastically nicknamed the "Hanoi Hilton."
It's a tourist attraction, showing its initial use by the French to hold Vietnamese dissidents and then for some of the 1,205 American captives.
Guides point out photos of happy American POWs preparing chickens for dinner and happy American POWs playing the guitar and singing. The exhibit says the guards gave them great food, medical care and clothes.
That's not the story MidWeek columnist Jerry Coffee (seven-plus years in Hoa Lo) tells in his book Beyond Survival. It's not the story of any POWs. They tell of food deprivation, lack of medical care, and torture. It ruined their health.
My Vietnamese guide admitted that maybe there were some bad things. "Some of the guards lost families. Maybe they could not control themselves. But the policy was to give kind treatment to the prisoners." Yeah, right!
Navy Capt. Jeremiah Denton was forcibly seated in front of a camera and told to make a statement admitting to being a war criminal. He blinked his eyelids to signal "t-o-r-t-u-r-e" in Morse code. His captors only figured that out after the film was broadcast, and they beat him unconscious as punishment.
Air Force Capt. Earl Cobeil refused to bow to his interrogator and was tied up overnight while an interrogator beat and kicked him. The Vietnamese say Cobeil died of natural causes.
The United States never asked to have any of the Hoa Lo personnel charged with war crimes.
Most of the Hanoi Hilton has been razed to make way for the Somerset Grande high rises with offices, apartments, bar and restaurant.
Nearby is a real Hilton hotel in Hanoi. It charges $190 a night and is called the Hilton Hanoi Opera.
I guess there were too many ghosts affiliated with the name Hanoi Hilton.

Linda Lingle's 62-35 percent win over Randy Iwase was predictable, and so I find the conclusion of Advertiser writer Derrick DePledge a bit silly. He says that makes it hard for Democrats in the Legislature to explain her victory as the result of a weak opponent or to oppose her proposals. Why so?
Most Democrats just didn't feel Iwase was up to the job. Lingle has been a good manager - although most of her new-law proposals went against the majority grain and rightly were killed. The choices being Lingle or Iwase, they chose Lingle.
That doesn't mean they like her politics.
She was the better manager-candidate and voters trust the Legislature to let her manage but keep her from doing harm.

A thoughtful friend chastized me for favoring rail mass transit over a toll roadway in a recent column.
I told him what I told Tampa Tollway enthusiast Charles Djou, the city councilman. It's no solution to pump more cars into the urban core.
We must get people out of their cars and adjusting to mass transit, be it by expressway buses or train.

What happens if some of our beach and park homeless refuse to move into new government-provided shelters (as they've said) because they don't like regulated life or prefer to live in our public parks?
I suggest we may need to arrest those recalcitrants and put them in tent internment camps until they accept the shelters.
Bad image, sure, but the alternative is to let them stay in the parks and on the beaches, and that's not acceptable to the rest of us. Is it?
Most Recent Comment(s):