Running With The Pamplona Bulls

By
.(JavaScript must be enabled to view this email address)
Wednesday - July 09, 2008
|
Share

Del.icio.us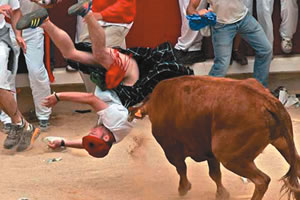 What happens when you mix alcohol and youthful machismo
This week is the Festival of San Fermin in Pamplona, Spain. Yes, I'm one of the nut cases who has run the bulls there. It was a youthful fling - I was 22 and crazed from a night of wine from a goatskin boda.
Young men gather for the run in the town in the north of Spain made famous by Ernest Hemingway's The Sun Also Rises.
Bulls are herded into a corral, and the run is a length of barricades, which forces them down narrow streets and into the bull ring. A cannon or rocket is fired to panic the bulls out of the corral at 7:30 a.m.
The craziest of the dudes don't run. They stack themselves up in front of the gate for the honor of having the bulls trample over them.
The runners, most dressed in white with red sash, get a head start for a quick dash by humans and bulls to the ring where the bullfights will be held.
Most of the bulls are just hell-bent on running. But some decide to take on a human. About 1,200 pounds of animal with horns.
Since record-keeping began in 1924, 15 people have been killed and 200 seriously injured. The last was a 22-year-old American, Matthew Peter Tassio, who was gored to death in 1995.
Women wildly cheer from overhead balconies, which also are rented to tourists for huge sums.
In my case, it wasn't much of a run. I was drunk and terrified and threw myself against a barricade and closed my eyes as the madness pressed past me.
Trouble is, as soon as the last bull gets into the 12,500-seat bull ring, the doors are closed. To get in requires keeping in front of the bulls or being very close behind. I was neither.
Inside, before the bullfights, the runners gather in strung-out groups. The front fellow will absorb a bull's charge with his chest and stomach (the horns are blunted but the trick is to make sure you grab them and only let the head hit you) and then the weight of the human line brings the bull to a halt.
Some fun, huh?
Saint Fermin's festival has been a tradition since the 16th century when all of Spain's Muslims and Jews were forced to convert to Christianity. The bull running started much later. By the 18th century, church officials were warning of "the abuse of drink and the permissiveness of young men and women." I guess today they've given up on the lecture.
The motivation today is tourism, not religion. Pamplona has a population of 200,000, and every July more than half-a-million visitors pour in.
Outsiders may perceive the bull run as madness. But when you're in your 20s and full of wine and Hemingway, not so many philosophical issues bounce around in your head.
Maybe it's time to end it? Then I saw a letter to the editor of a Spanish newspaper:
"We Americans and Europeans allows ritual slaughter of animals to eat, which is immensely cruel. If all the meat-eating hypocrites want something to ban, they should ban that and leave the Spanish to do things their own way. Butt out!"
Most Recent Comment(s):