Second Thoughts On A New Knee

By
.(JavaScript must be enabled to view this email address)
Wednesday - October 18, 2006
|
Share

Del.icio.us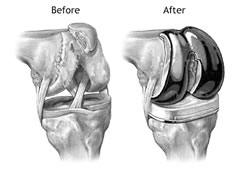 A damaged knee and a replacement
The date of this MidWeek issue was to be the date of my total knee replacement surgery. I've cancelled it.
I write this because you need to carefully look before you leap (or limp). I was in the final steps of the leap-limp when I stood back and said "wait a minute!"
Total knee replacement is very serious surgery. Chunks of bone are amputated. Titanium and Teflon joints are cemented in, and very painful rehabilitation ensues.
The mortality rate for this is negligible, about 1 percent. The trouble rate, infection or pulmonary embolism or surgical failure, is higher - about 2 to 3 percent with standard incisions. With the minimally-invasive-surgery method (Kaiser Hawaii does not use it) that climbs to almost 14 percent.
That wasn't what turned me around. It was going over the benefits versus the pain and long recovery, and whether I could do okay with steroid shots or new joint lubrication medicines.
I'm not crippled or in deep knee pain. One knee is bone on bone, no cartilage. So it can hurt a bit and I can't run or walk long distances. I guess I let myself think that with an artificial knee I'd be hiking Mauna Loa. A 20-year surgeon set me straight. I'm 70 and no athlete. The new knee wouldn't get me to the volcano summit. I could walk farther, but I might still have a limp out of body habit. I couldn't drive for two to three months. There would be horrible pain during recovery therapy to overcome scar tissue and force the new knee to bend.
My body wouldn't reject the titanium knee - it's not tissue -but it would never be happy about it and would always be trying to infect it via such ordinary things as dental work. I'd set off airport metal detectors.
The surgeon who explained all this in a Kaiser class for those prepping for the surgery said if you are mobile and get around with acceptable pain with two or three pain pills per day, why would you want the risk and the painful recovery of total joint replacement?
A light went on! Hey, so what if I can't hike Diamond Head or the Haiku Stairs? I always liked the views but never liked the hard work getting there. I swim and ride my bike with no pain at all and sleep well. I couldn't trek the highland villages of Sapa, Vietnam, on my recent visit there. But I walked to the markets, took photos and sipped cold Beer Hanoi at a cafe while the athletic younger woman I married hiked with our athletic daughter.
Yep, I heavily favor my bad knee going up and down stairs, but I'd hardly ever be going up or down stairs during my surgery recovery period, and there was no guarantee of full new-knee use in anything less than a year.
In my pre-surgery class I met a Big Island woman who could hardly get on or off a bus, so a new knee made sense for her.
Does it damage anything to wait? The chief of joint-replacement surgery at Kaiser said no. They're going to amputate the bone around the joint anyway when they do the replacement, so what's a little more wear and tear?
Age may matter for surgery. The classroom surgeon told me "you look young and in pretty good shape." Obviously he hadn't seen my age chart and maybe a loose shirt hid my extra pounds.
Extra pounds. Getting rid of them is the best thing you can do for your knees.
Well, that's your "kneed-to-know" information. Hope it helps. But remember, I ain't a doctor! Consult yours.
Most Recent Comment(s):