Shifting Travel Plans In Kiwiland

By
.(JavaScript must be enabled to view this email address)
Wednesday - March 30, 2011
|
Share

Del.icio.us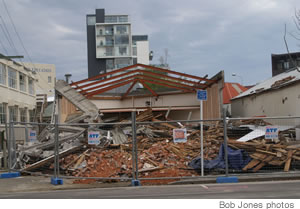 Some high-rises survived while smaller structures fell
This should have been a story about Christchurch, New Zealand's most English city, the skyline dominated by an 1800s Anglican cathedral and trams running along Worcester Street. I'd come to see that.
Then the second earthquake in five months hit. The cathedral fell, so did the central business district - death and destruction. Our reserved motor park was under water.
We (wife Denby and I) quickly got out of town after a short look at the destruction, buckled roads, shattered lives, search-and-rescue. We're journalists. It's hard for us to turn away from something so horrible.
We headed east onto the volcanic Banks Peninsula, its craters long dormant but its fault lines shaky. To Akaroa, first occupied by French and then English.
We travelled by a two-person hotel-on-wheels from Backpacker Campervan Rentals - about $100 a day for a deluxe model with kitchen and a dining area that converts to a wide double bed. An overhead kid's bed supports 130 pounds. A GPS, all bedding and cooking/eating utensils. You can stay in private caravan parks or "freedom camp" in any non-posted public field or forest, but Islanders are getting frosty about the same "homeless" people who've infested Hawaii and outlived people's tolerance.
Air New Zealand flies here to Christchurch (the runways were undamaged). The campervan people pick you up, orient you, and you're off with a propane stove, sink, chairs but no shower or toilet in the small models.
At Akaroa, stay at the harbor-view Top 10 Holiday Park and at least one night eat at the small but food-precious Little Bistro. Pass up those touristic bayfront pubs. There's a grocery store if you want to cook in.
South from Christchurch on Highway 1 with a right at the town of Hinds for 22 kilometers takes you to Peel Forest, a large conifer reserve with a government-run, powered campsite, kitchen and toilets in a grove of trees with quiet walks in old growth. There's a store nearby with basics and it issues the camping permits.
Next, via Geraldine on Highways 79, 8 and 89, skip Lake Tekapo, a dreary, fake-Alpine, bus-stop mall. Gas- and food-up and go on to Glentanner Motor Park. Excellent campervan site on Lake Pukaki, and your staging area for minimnalistic Mount Cook Village. Breathtaking mountain views on good days and a worthy museum on mountain climbing. Learn why 1800s women climbed in blouses and ankle-length skirts! Challenging hiking trails for novice and expert.
Leave via Twizel (hit the fresh salmon farm on Highway 8) and head southeast through the Kurow and Duntroon wine country on Highway 83. Destination is coastal Oamaru, its Top 10 Holiday Park and the town's unsurpassed Whitestone Cheese Factory, a penguin colony and lovely Victorian buildings left from an earlier commercial age.
Going south next on Highway 1, you must pull in seaward at Moeraki and lunch at Fleurs bay-edge old whaling shack for food and wine to send you into a heavenly spin. Do not miss this one!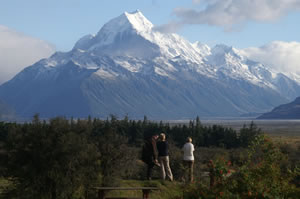 Stunning views of Mount Cook
Dunedin is next, with lots to do and see - the old train station and the as-itwas Olveston House left to the city; the original Cadbury factory and its chocolate waterfall to thrill kids and adults; the great Otago Museum. Stay at the Seaside Dunedin Holiday Park and spend one day slowly driving out on the Otago Peninsula, high road out, low road back.
Should you do Milford Sound next? Everybody thinks so. Not us. We picked Doubtful Sound. Milford's too touristic. We went to Manapouri Lake and signed up with Real Journeys for an eight-hour adventure. Boat across the lake. Bus deep into the mountain to see the underground hydro-electric plant, more bus through the Wilmot Pass, and then three hours on Doubtful Sound to the Tasman Sea and back. Two nice, old Americans run the Manapouri Motel and Campervan Park right on the lake.
Queenstown (you must backtrack, no shortcut road) is known for outdoors stuff. Jet boats (stick with Shotover), bungy jumps (Denby did it, conquering her fear of heights), para-sailing, a gondola ride, and the spotless Creeksyde Top 10 Campervan Park. Don't skimp on time. It's a great town. Headquarters for the five-day Milford Trek - one of the world's great walks. My wife did that, too.
Take the Crown Range Road north to Cardrona and do not miss a stop at the old Cardrona Hotel. It's one of a kind with good food and a marvelous back garden.
Fuel/food up in Haast but don't stay there. Dull. Press on to Fox Glacier and Franz Josef Glacier - both have easy to-the-glaciers hikes. Fox is less hectic, but Franz Josef has the Alice May Restaurant - food's the best, and you must read Alice May's murderous story.
Last, up the alpine Highway 6 is surprising Hokitika, best craft shops of our journey, gold mining, dairy processing, world's widest streets. Stay at the Shining Star Campervan Holiday Park on the beach.
Then it's time to head back across the mountains to Christchurch at the Kumara Junction. Make sure you fuel up. Petrol is scarce here. I suggest an overnight at Jackson's Retreat. It was the cleanest, most pleasant campervan stay of our three-week run through the South Island.
North-South Holiday Park in Christchurch was the worst, although our Dunedin stay wasn't much better.
But New Zealanders are marvelous and friendly and helpful. Their country is visually stunning and their environmentalism puts us to shame.
Goodies: No tipping required, and airport eats and drinks sell at ordinary downtown prices - none of our gouging.
Bummer: My wife forgot one clementine orange in her carry-on. Christchurch customs found it and wanted a $350 on-the-spot fine. She demanded court adjudication. But before that occurred we'd left the country. Now I wait to see if I'm living with a woman wanted as a fugitive from justice.
You'd think Christchurch authorities currently had more to worry about than one 2-inch-diameter hesperidium of no threat to its health or economy.
We might have to flee to Tristan de Cunha.
Most Recent Comment(s):