So Much To Do In, Around Hilo

By
.(JavaScript must be enabled to view this email address)
Wednesday - April 18, 2007
|
Share

Del.icio.us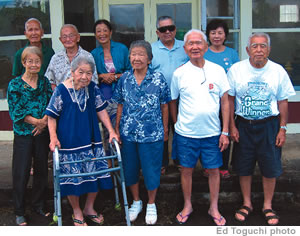 Surviving Wailea kupuna: (back, from left) Waichi Ouye
Yasuo Ogawa, Akiko Masuda, Yukio and Kinuko Arakaki
(front) Jane Ouye,Yukiko Chinen, Mildred and Jack Ouye,
Masaichi Chinen
(Editor's note: Bob has been on the Big Island, scoping out some special summer things for MidWeek readers to do.)
This was my umpteenth stay in Wailea Town, 15 miles north of Hilo.
Most visitors never see it as they zip along Highway 19, miss the left turn onto Chin Chuck Road and then a quick left onto the two-lane old coast road.
I call Wailea a ghost town, but it's making a comeback. The Luxury Homes Network has a Wailea-Hakalau website that screams "Homes For Sale." The median house price is $799,000. One house is paraded on the Internet as "for dreams that include all things exotic, your search will end here."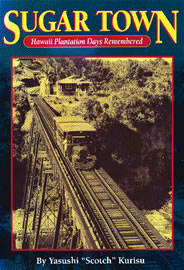 Cover of the book on Wailea-
Hakalau, Sugar Town by "Scotch"
Kurisu
The defining history-and-pictures book is Yasushi "Scotch" Kurisu's Sugar Town from Watermark Publishing. In its heyday, Wailea Milling Co. was cranking out nearly 6,000 tons of sugar every year. That mill was torn down in 1947.
If you turn makai at the WaileaHakalau intersection (by the sign offering lots in the new Plantation Village subdivision) and drive down to the ocean, you can see where Hakalau Company's sugar used to be loaded onto lighters and then to ships anchored away from the surf, and where the later railroad hauled the sugar to Hilo for easier loading. There were 2,000 sugar workers, Hakalau School (reunion dinner will be May 18 at the Pepeekeo Kulaimano Community Center), stores, churches and a 26-bed hospital.
There is still a small Wailea Town - where cats and people can sun on the seldom-used mile-long strip of roadway. There are only two ways to stay there as a transient: Get a county permit and tent-camp at Kolekole Park (no potable water), or stay at Akiko's Buddhist B&B, formerly the Motonaga Shell Service Station and Garage. It offers yoga, along with coffee, papaya and oatmeal, to start your day. Owner-operator Akiko Masuda is encouraging the arts and involving the other kupuna in which way the town should regrow.
If you get antsy in Wailea, just up Highway 19 is Laupahoehoe with its Back To The '50s Cafe that kids and parents will love. Continue north to mile marker 36, Pohakea Road, to Jim Reddekopp's Hawaiian Vanilla Company Mill on Pauuilo Mauka Road. Tom used to star in musicals at the Castle High School theater.
In Honoka'a you have the Hawaii Island Goat Dairy doing cheese, and many antique/art shops.
Or backtrack to the Farmer's Market in Hilo. If I lived near it, I'd feed my wife like a Nguyen emperor of 1800s Vietnam, with a new dish for dinner every day. Seafood (ahi, opihi, uhu and even fish sausage), many bread stands, 200 varieties of fruits and vegetables, plus Hawaiian, Samoan and Filipino food specialties.
The idea was coined in 1988 by Richard "Mike" Rankin and four farmers who sold from the backs of their trucks. Today, there are 175 stalls and a waiting list of people who want in. It's been operated since 1999 by Keith De La Cruz. You pay him $15-$20 for a 5-by-10-foot stall. He does-n't take any cut of sales. He did expand to clothing and flowers.
"We can't do too much," says De La Cruz. "The people who have the stalls have other jobs or their farms." He plans to enclose the market, cement the floor, and build a second story with bathrooms, a food court and a dining area.
You know the problem there - the weather. As a Washington Post writer said: "When the sun shines in Hilo, the whole town gets a little giddy."
There are some new green tea farms on East Hawaii. Get locations from .(JavaScript must be enabled to view this email address). Visit the Hilo Coffee Mill at Mountain View, en route to Volcano between mile markers 12 and 13.
Or zip cross-mountain to do the newly mapped Kona Coffee Country Driving Tour of farms, mills and roasters. The map's online at www.konacoffeefest.com.
People who say there is not much to do on the Big Island other than see the volcano do not know the Big Island.
Most Recent Comment(s):