Soldier On, Gen. Fred Weyand

By
.(JavaScript must be enabled to view this email address)
Wednesday - February 17, 2010
|
Share

Del.icio.us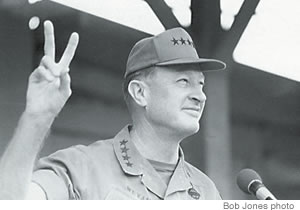 Vietnam was Gen. Weyand's military touchstone
Fred Weyand was constantly on my mind last month as I traveled the length of Vietnam. the old war zone that occupied much of my working and personal life in my late 20s and early 30s.
The general, who died last Wednesday night at Kahala Nui, was central to most of those years. Usually as a friend, as best that journalists and generals they cover can be friends. He twice scolded me so harshly he brought me to the edge of tears.
He commanded the 25th Infantry Division at Schofield Barracks and I was the Advertiser's military editor when we met. I did field exercises with his troops in the Kahuku mountains for a couple of years before the 25th was called to combat in Vietnam.
He called me and Star-Bulletin reporter Lyle Nelson to his headquarters to disclose the call-up on a "background" basis on my paper's time (the S-B was only afternoons then.) I thought "background" meant "off the record" so I didn't file a story. Nelson knew better (it means no quoting the source) and got the scoop headline.
But the Advertiser sent me immediately to war with the 25th. So it became my story.
War isn't nice or orderly. Shortly into the Wolfhounds' stay at Cu Chi Base a Hawaii soldier at a listening post was accidentally shot and killed at night by his own men. I wrote the story. Weyand was still in Hawaii with the rear headquarters. The boy's mother, who had not been told about the "friendly fire," confronted Weyand at a Punchbowl ceremony and slapped him across the face with a copy of my story.
Weyand chewed me out when he arrived a short time later in Vietnam. And later, he'd really read me the riot act for an unfavorable story that hit the paper the same day one of his favorite captains was killed by a land mine. You've never been chewed until Fred chewed you! Mild-mannered until he was not.
Vietnam was Weyand's military touchstone. He would become the 2nd Field Force(Central) commander and then the whole Vietnam war commander. I don't think he ever lived down in his mind that he was the war commander who had to stand before the world press on March 29, 1973, haul down the American flag, and fly home the remaining 24,200 American troops as, basically, the losers. I was with NBC News then. He would not talk with me. In later years, after he was appointed Army Chief of Staff for only a one-year term (was it to buy his silence?), I'd goad him to write a memoir about what went wrong in Vietnam. He steadfastly refused. He was loyal to the Army and the command structure to the end, although he openly loathed former Defense Secretary Donald Rumsfeld, who orchestrated the Iraq and Afghanistan wars. He felt Rummy gave short shrift to the advice of his military advisers and chose his own, bad counsel.
If he felt the late Defense Secretary Robert McNamara was equally defective in running the Vietnam war, he never said so in public. Nor did he criticize presidents Kennedy, Johnson or Nixon.
He was a soldier who took orders and carried them out as best he could.
Most Recent Comment(s):