Something To Watch For; Maui Deal

By
.(JavaScript must be enabled to view this email address)
Wednesday - August 18, 2010
|
Share

Del.icio.us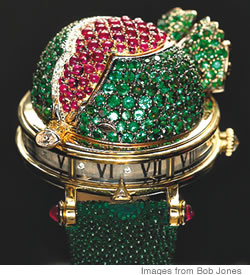 Yes, this is a wrist watch
I'm curious why people spend so much money on wrist watches.
I'm a $30-Casio-from-Longs kind of guy, but I did manage to score a $16 Armitron in a Walmart in Franklin, La. I'm only interested in something that keeps pretty good time and I can wear in the shower. No need for a satellite signal that connects me to the Master Clock at the U.S. Naval Observatory in Washington.
And should I buy a Breguet just because Napolean had one in 1798?
But apparently there's a need for some people to show off their timepieces. It used to be the $1,000 gold Rolex. That's piker material now. The wrist watch of the day for men is the Quai de I'lle from Vacheron Constantin. It's double-faced, and only seven are produced of each design. There are 834 parts, perpetual calendar, sunrise and sunset time, second time zone, and a "tourbillon device" that helps counter gravity, which apparently can rob your watch of a second every few years. You can have one of these for $1.5 million if you can find a dude who's willing to part with his.
Then there's the Zadora from Andreas von ZadoraGerlof (above). Its face is partially covered by a palladium bee with black and canary-yellow diamonds, emerald eyes and a real South Seas pearl in its mouth - $150,000 - and if you look closely, you can also see the time.
I've been poking around the chat rooms to see what men say about their wrist watches. Some seldom wear their best ones so they don't get scratched, lost or stolen. One fellow says:
"To buy an expensive watch and hardly ever wear for fear of it being damaged is an insult to the people who made it. How can you call yourself a watch enthusiast when you don't use the thing for the purpose it was created? It's like buying an e x p e n s i v e Ferrari, wrapping it in bubble wrap and putting it in storage, or marrying a supermodel and never making love to her because you don't want to mess her hair up!"
When the battery poops out on my Casio or my wife's fake Cartier and I take it to Linh Bui's Honolulu Time Service, I'm embarrassed. I expect him to ask why I'm such a cheapskate. His kids who work the shop give me that "What, you again for a $5 battery?" look.
Maybe I'm the reason there's a slow recovery from the recession.

You've seen those MidWeek ads for cheap rooms at the Maui Seaside Hotel. I tried one for a weekend. Huge, comfy, spotless-clean, right on the bay, pool, contagiously friendly staff: Highly recommended by this highly critical traveler. And two fabulous nearby eateries: breakfast or lunch at Sam Sato's in Wailuku (cash only) and dinner at Bistro Casanova in Kahului, where your boarding pass gives you a free dessert.
Most Recent Comment(s):