Springy Shoes, Aspartame Blues

By
.(JavaScript must be enabled to view this email address)
Wednesday - February 20, 2008
|
Share

Del.icio.us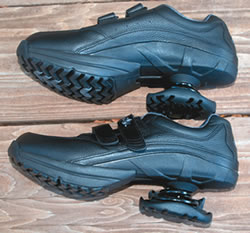 Z-Coil shoes: Funny looking, but they reduce knee pain
I sometimes write about a product or restaurant, but I never take a freebie in return, hold any financial interest in the subject or sell any advertising.
I write about things I find that might help MidWeek's readers. Such as my newly discovered Z-Coil shoes.
Doctors, nurses and others who spend lots of time on their feet know about them by word of mouth. Atour guide told me about them. I'm not always on my feet but when I am, my knee arthritis and damaged sub-talar bone in one foot can make prolonged walking painful. I need to take some of that downward pounding off my heels.
Enter Al Gallegos of New Mexico. In the 1980s, he was a runner with heel spurs, knee trouble and hip pain. He needed a shock absorber. Some kind of a spring, he thought, to absorb and then thrust his step-energy upward.
He invented a 3-inch-wide conical steel coil and had a butcher cut open the soles of his shoes and glue them in. Sometimes it worked, but often it did not.
Then he got it right with perfect steel coils as heels, but most shoe companies found the idea laughable.
My photo with this column shows you why. Everybody can see that you have spring-coils where normally only rubber or leather heels are. Looks odd and people ask you "what's that odd thing on your shoes?"
By 1995, Al Gallegos had a patent and a Korean manufacturer, and athletes and others were discovering Z-Coil shoes. They come in general walking styles, running wear, sandals, work shoes and fancy wear - the latter least likely to be bought because ... well, because people see those steel heel coils. Not exactly Bruno Magli.
They do the job, especially if you have foot, knee or hip problems associated with your feet pounding on the ground. Even many runners of marathons now swear by them.
Z-Coil shoes come with builtin arch support, and the coils add about an inch to your height. Not cheap. Most run over $200.
But what price less pain when the doctors cannot give you that?
Locally, they are sold at ZPRS Comfort Co. at 1616 Liliha St. and Z:Pain-Free Footwear Store in Kilohana Square in Kapahulu.
You may find used Z-Coil shoes advertised on the web, but I can't recommend those. These shoes need individual, expert fitting and sometimes adjusted coils or rubber wedges to counter pronation.
Mine have greatly reduced my sub-talar pain so I ain't complaining about the price tags on my walking-shoes or my sandals. They're all I wear now.

Oy, vey! Now the "it's killing us" folks are on the war path against aspartame, better known as NutraSweet or Equal. It's a sugar substitute.
Some Hawaii people want to ban it. Why? They think it's linked to everything from headaches, lupus and vision degradation to sexual dysfunction.
The American Medical Association says "consumption of aspartame by normal humans is safe and not associated with serious adverse health effects." The Food and Drug Administration approves aspartame as safe for kids and adults. So does the World Health Organization.
The FDAdoes recommend that you limit how much aspartame you consume each day. Let's say you're a 100-pound person. You could safely drink 10 12-ounce diet sodas, or eat 54 cups of sugar-free dairy dessert or 70 packets of Equal. Less for a small kid, more for a large adult.
True, if you have the rare disease phenylketonuria, too much aspartame could result in brain damage.
Despite a last-minute anti-aspartame polemic by KITV health reporter Dick Allgire, the Legislature killed the ban bill for this session.

This line from the Associated Press last week caught my eye:
"Hawaii has no law restricting companies from labeling their pork as island produced even if the pigs were raised elsewhere and only slaughtered in the islands, said Department of Agriculture spokes-woman Janelle Saneishi."
Doesn't give you much confidence in what you're buying as "island" food these days, does it?
Most Recent Comment(s):