Storm Scare; Mortgage Schemes

By
.(JavaScript must be enabled to view this email address)
Wednesday - August 22, 2007
|
Share

Del.icio.us
Three takes on one story, all with the same date-time stamp, for local consumption and for national-international readers about our brief hurricane threat:
Local: Flossie is expected to deliver winds of 39 mph and as much as 10 inches of rain over parts of the Big Island.
National: Public schools closed and Hawaiians warned to stock up on food and water as Hurricane Flossie roars toward the state.
CNN: Tropical Storm Flossie lashes Hawaii.
HawaiiReporter.com: Hurricane Flossie Likely to Hit Big Island's South Point as Category 3.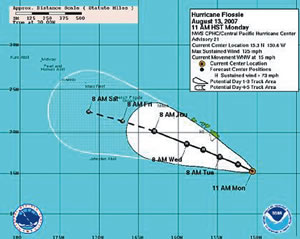 NWS Hurricane Flossie track
Don't you love our news media? Scare 'em to death.

Terrified about your mortgage loan and where it's leading you?
There are no magic bullets, but there are plenty of people claiming to have them and I say they do not.
Some send you fake notices that your bank loan is up for readjustment and they are not.
Some say you can end your mortgage payments, increase your wealth while buying more real estate - all while paying no more per month, or even less, than you are now.
Those are magic bullet peddlers.
My dear readers, I have been my family's money manager and investment guru for more than 30 years and I ask you to absorb this advice with great seriousness:
There are no magic bullets, no horcruxes, no hallows and no ways to have wealth and unmortgaged property unless you're blessed with riches or Auntie Kekau left you a paid-off house or a wad of money.
Not to say you can't manage your money better than you do. There's a whole lot of mismanagement out there. It's been caused by cheap credit for unqualified people. Some by way of sub-prime home loans and much more by way of easy credit cards.
But if somebody tries to tell you that you can pay off your mortgage and have cash to spare without changing an iota of your current lifestyle - head for the exit.
Sure, you can pay down (or off) your mortgage with larger principal payments. But those payments have to come out of your budget. And you won't get so much interest deduction on your income tax. I'm better off with my deduction than by paying off my mortgage. Your situation depends on your tax liability. Get impartial advice on yours before you swallow one of those "pay off your mortgage" pills.
Sure, you can leverage your money. Use your home equity on a second property and a debt-payoff. Get two houses and hope to sell one at a profit to pay off the added loan. But look at today's crumbling credit and home market. You could be stuck with a $500,000 leveraged property now worth only $400,000.
Real estate downturns typically last seven to 10 years. Is that outfit that's telling you to refinance or leverage telling you also to have a seven-to-10 year cash reserve to draw on?
Adjustable rate mortgages aren't all bad, either. Depends on your long-term finances and the honesty of the broker.
I've been using Robert Tassie of MortgagePlus LLC and about three years ago went for a 5/3 adjustable at 4.2 percent and no points. He told us the good (really low interest for five years) and the potential bad (higher interest after that and having to refinance after eight years.) Nothing hidden. We knew we could afford to pay off or refinance our mortgage if times turned tough.
If somebody tells you a home mortgage is a bad debt or that "even a low mortgage rate is a bad mortgage rate" (as one ad puts it), walk away. Think of your mortgage as rent while your Hawaii property appreciates way beyond the paid interest. There are good reasons why 88 percent of American home owners have mortgages (the U.S. mortgage market totals about $10.5 trillion.) Mortgages are not bad for you. Badly structured, they can bite you.
I suggest that before you rush off into some no-more-mortgage scheme you seek the advice of a recommended mortgage broker and/or a certified financial adviser.
There are no magic bullets. .(JavaScript must be enabled to view this email address)
Most Recent Comment(s):