Suggestions For Amendment Votes

By
.(JavaScript must be enabled to view this email address)
Wednesday - November 01, 2006
|
Share

Del.icio.us
Many of you will vote YES just for the hell of it and many of you will vote NO just for the hell of it on those City Charter and state Constitution amendments next Tuesday.
Many of you are likely to leave them BLANK.
If you trust my judgment on such things, you can clip this column and bring it with you to the voting booth as a guide.
You're being socked with overly wordy changes that law-makers and review bodies feel a compulsion to thrust upon us periodically.
I don't blame you for tuning out.
On the City side:
No. 1: Vote NO. Keep City Council term limits as they are. By voting NO, you can skip No. 2. Make it easy on yourself. No. 3: Vote NO. It's a very appealing, populist idea to give 1 percent of property tax revenue to clean water and affordable housing, but hardly ever a good idea to lock in allocation of property tax revenue. That's an open invitation to higher taxes ("Hey, we don't want to, but we've got to pay that water-and-housing portion!")
No. 4: Vote YES to put curb-side recycling under the environmental services department. But will this mayor ever give us curbside recycling?
No. 5: Vote EITHER WAY. I'm not persuaded that civil fines are any more punitive than disclosure in ethics lapses, but if it makes you feel better go ahead and OK it.
No. 6: Vote YES. Why have a primary if there are only two candidates and the race is non-partisan and both will go to the general anyway?
No. 7: Vote NO. We don't elect the Salary Commission, so it should come under City Council review.
No.8: a big YES. Make Honolulu more pedestrian- and bike-friendly. We're the best climate city with the worst of pedestrian walkways and meaningful bike paths.
No. 9: I'm reluctantly voting YES. Good idea to take the Liquor Commission administrator out of civil service. But I'm not persuaded on the deputy and the secretary being out. Especially not the secretary.
No. 10: Vote YES. This is just a sensible emergency services language issue.
No. 11: Makes some sense to vote YES, but projects won't crumble if you say NO and make funds lapse each fiscal year.
Mixed bag of reasons.
No.12: So you care? I didn't think so. I'm going BLANK.
On the state questions:
No. 1: Vote NO. Is this a Democrats ploy to keep Gov. Lingle from appointing new UH regents? Sure. It should be a governor's prerogative to pick the people overseeing the state university and the state Senate's to OK or reject those nominations.
No. 2: Vote NO. Salary commissions do make sense, but this says the recommendations must either be totally accepted by the Legislature or totally rejected. That makes no sense. Some may deserve more, some not.
No. 3: Vote YES. Judge retention should be strictly by ability and not by age. Is this a Democrat ploy to keep Gov. Lingle from replacing judges Moon and Burns? Sure. But regularly vetted ability rather than age should be the criterion for retaining judges.
No. 4: Vote YES. Criminal statute definitions should always rest with the Legislature. Whether by statute or constitutional amendment is immaterial.
No. 5: I'm leaving BLANK. There are too many competing pros and cons on this.
If you leave them all blank, neither the city nor the state will fall to pieces.
But be aware that on the city side BLANK simply doesn't count. On the state side, BLANK counts as a NO.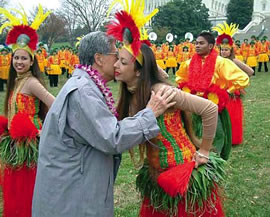 Akaka: Hug, kiss and sing, but don't talk
Here's a truly bizarre tale. KITV News did a series on the Dan Akaka/Cynthia Thielen positions to help voters gauge their differences.
But no Akaka.
His mouthpiece said the senator said nope, if you want my positions use the old stuff you taped during my run against Ed Case.
That's an insult to voters, senator, and makes you much less worthy of their vote for you.
The campaign plan is to keep Dan from doing more than smiling, shaking hands and singing.
You know what happens when he talks on his own.

That a U.S. Army Pacific Lt. Col. Nomura suggested in a letter to MidWeek that I criticized Lt. Gov. Duke Aiona because of his "brown skin" is way beyond fair reader comment.
I've never replied to a read-er's letter until now. I prefer you to always have the last word.
But the officer who wrote that thoughtless, racist remark deserves terminal, all-left-side check marks on his Officer Efficiency Report if he's in the zone for full colonel.
Most Recent Comment(s):