Taro Research, Gold, Mufi's Future

By
.(JavaScript must be enabled to view this email address)
Wednesday - April 11, 2007
|
Share

Del.icio.us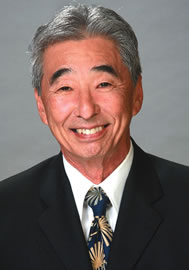 Rep. Clifton Tsuji: right on taro
research
Sometimes, not often, I get a jolt of hope that we can legislate the right things for our future and ignore superstition, ignorance and irrational fear.
Example: State Rep. Clifton Tsuji's decision to pigeonhole that bad proposal to halt UH genetic research on disease-free taro.
There are some noisy ignoramuses who mouth things like "taro is part of our genealogy. We don't want to alter the genes of our ancestor." Your ancestor? This guy skipped biology class.
"Science can often get ahead of humanity," says Tricia Watson. She skipped her science classes. Science is humanity. Literature and the arts, too. The most that can be said is that they all sometimes get out front of the under-educated, fearful and superstitious.
Without genetic research, we'd be rotting, ring-spotted papaya land. Our bananas are threatened by bunchy top disease. Taro could go to root aphids and leaf blight in a flash. The "leave our ancestor alone" gang thinks bad things are man's fate - it's God's will.
Usually, our state Senate is the lawmaking body with the greater thoughtfulness of the two, but this time the senators caved to superstition and had passed the no-research bill. It was the House that had the spine to turn it down.
A little jolt of hope.

Why do so many of you buy gold?
Not gold mining stocks or mutual funds. Those make sense in some portfolios. I mean gold bullion or those "uncirculated" (read that as unspendable) gold "dollars" sold by outfits who have U.S. or Mint in their names but tell you in teeny-tiny print that they are "not affiliated in any way with the U.S. Government."
They tell the gullible that "gold is predicted to go to $1,800 an ounce" but never say who predicts that. They claim you lose money with bank certificates of deposit because of a 6 percent inflation rate, but the highest rate we've had in the past seven years was 4.76 percent and it's now about 2.25 percent.
They say "10 to 20 percent of your net worth should be in gold, according to most money managers." I'm a money manager and danged if I've ever read that!
A hedge? In 1987, gold crashed right along with stock prices.
Let's presume there's some world crisis. Do you think Hawaii supermarkets or gas stations will accept a slice of a bullion bar or one of those Gold Eagle coins in payment?
Sure it's your right to own gold, just as the ads say. It's your right to own dead insects and butterflies, too.
Tough to pass them off at the supermarket cash register.

Why would anyone in the Legislature not vote to open up to the public every salary and benefit paid to anyone drawing a state or city paycheck?
We should not want to disclose potential salaries still being discussed. That would be defeating negotiation. But what everyone gets or would get if an agency like the UH Board of Regents has to vote on it must be open to me because I'm one of those paying it.
If somebody's embarrassed by salary publicity, let him look for work in the private sector.

If I were a betting man, I would not bet the house on Mufi Hannemann being reelected next year, if he decides to go for a second term.
No polling results to tell me that. Just the grumblings I hear as I make my rounds. It's true that he inherited a lot of our current problems - potholes and sewage problems - but you know how the electorate is. He even gets blamed for pointing the finger of blame at Jeremy Harris, who never seems to be around.
My bet would be that City Councilman Charles Djou will run for mayor in 2008. People seem to feel good about him the way they've felt good about Linda Lingle. In other words, they're good Republicans.
If Djou runs, I'd bet he gets elected.
You heard it here first.
Most Recent Comment(s):