The 2009 Legislature: Do More

By
.(JavaScript must be enabled to view this email address)
Wednesday - January 14, 2009
|
Share

Del.icio.us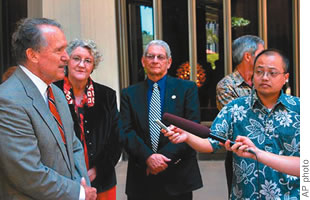 Hawaii has only two GOP state senators now, Fred Hemmings (left) and Sam Slom (center)
This is the year our almost-all-Democratic Legislature should clamp down on the scattershot approach to every member's pet bills (to show they're doing something other than collecting pay) and say "only the most important things that help us move along."
There should be pressure put on Gov. Linda Lingle to rescind that 10 percent state grab of the city's transit tax. Every possible dollar must go into the train project to get it quickly on track.
And what the Tax Foundation calls the "appalling" cost of our Act 221/215 tech-tax-credit needs review. We've lost about $800 million in revenue on that with no promise that Hawaii can ever be a job-producing tech hub. The credit seems to only benefit venture-capital investors.
We need quick attention to that failed program to provide free medical insurance for children of families unable to afford private insurance. The one we had was taken advantage of by families who could afford coverage but dropped it to get onto the freebie.
We must stop our shameful taxing of people who are below the federal poverty level. As things stand, if you only make $20,000 a year this state still hits you for about $440 income tax. We should adopt the federal levels.
I love the arts, but private donors have to step up because the state may step back. It was a big political boo-boo for Mission Houses Museum chief David de la Torre to be quoted in Honolulu Weekly saying "the governor really has a philosophy which I think is in conflict with the arts community."
One area that still needs attention is uninsured motorists. I've seen estimates that as high as 20 percent of the vehicles on our roads are uninsured.
This isn't urgent, but I wish law-makers would consider banning the selling and wearing of apparel that says "Police" or "Sheriff" or "FBI." I know the freedom-of-speech arguments, but wearing such shirts, jackets and caps is also a form of impersonating a law enforcement officer.
Also, if KSSK is to be the official emergency broadcast station, shouldn't we consider an official emergency broadcaster? There was cited evidence this past blackout that Perry & Price tend to be joke-sters and purveyors of misinformation and ridicule. We need some veteran broadcast journalist (Jim Manke of Public Radio?) at the microphone rather than glib breakfast-show hosts.
And isn't it time to hire an outside technical auditor to do a thorough study of Hawaiian Electric Co.? It's become a third-world joke that every bolt of lightning or rainstorm can kill city power.
We, alas, must also plan for the possibility of a multi-hundred-million-dollar lawsuit should the Hawaii Supreme Court shut down the Superferry. The Lingle administration gave a no-environmental-impact-study OK for the Superferry to sail before the Legislature gave that color of law. We could be left dangling on a hugely expensive hook.
This is no year for flam-bouyant speeches and political posing at the Legislature. There are only eight Republicans in the whole body, and only two, Fred Hemmings and Sam Slom, in the Senate. Veto proof. So there's nobody to blame but the Democrats if there's no meaningful progress on social and tax reform.
Their record in recent years has been pathetic. Compared with the same body in the 1960s (with more Republicans in office) we seem to have fewer big brains and more harebrains. A lack of Tom Gills and Sakae Takahashis and Tdau Beppus and David McClungs.
Too many people there working mainly to get re-elected, to something.
Most Recent Comment(s):