The Antiquated Electoral College

By
.(JavaScript must be enabled to view this email address)
Wednesday - May 21, 2008
|
Share

Del.icio.us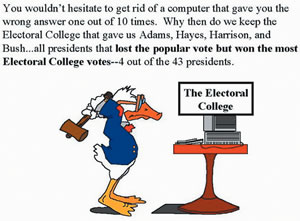 An anti-Electoral College graphic
Good on us! We've joined three other sensible states who want our presidents picked by popular vote preference rather than that poorly accredited Electoral College.
Why some local editorial writers and politicians defend the current method (our winner takes all electors) beats me.
There are 538 national "electors" equal to each state's number of senators (two each) and representatives (widely varies by population). They meet after the election and cast all their votes for the candidate who got the most votes in their state.
So sometimes (like Bush-Gore) a candidate can win the popular vote but lose in the Electoral College by having lost some big-delegate states. That makes a joke of one person, one vote, each equal. Hawaii (1 million) and Wyoming (500,000) get more clout in the Electoral College per capita than California or Texas.
New Jersey, Maryland, Illinois and now Hawaii have chosen to give our electors to the winner of the national (not local) popular vote. Nothing in the Constitution says states cannot tell their electors how to elect.
The way we do it now, the candidate who loses the popular vote can win the election.
Imagine, please, Hawaii's four electoral votes going for somebody who otherwise lost America by three and us deciding the presidency!
The Electoral College, some say, tends to force a two-party structure because nobody wants an election thrown to the House of Representatives. It was cobbled together in the confusion surrounding the done-deal nomination of George Washington.
A good book by George C. Edwards III, Why The Electoral College Is Bad For America, hints that the Founding Fathers did not expect us to end up with a two-party system and might have intended to leave the choice up to the House of Representatives whenever no candidate was overwhelmingly popular.
There's no good argument that says Hawaii will be harmed by joining states that want to tell their electors to select the person who has received the most votes across America.

Local government sometimes does really moronic things.
Like the state Public Housing Authority okaying 14 units at Puahala Homes off North School Street to go to the homeless.
That means those homeless - even if they've become that by way of destructive behavior - move to the head of the line, ahead of 8,600 working, fully transitioned but poor people on the public housing wait list (not just the 7,000 The Advertiser under-reported.)
The message: Don't work much, hang out in beach tents, do drugs and alcohol, and you'll get priority over families not doing those things.
Moronic is too kind of a word.
Most Recent Comment(s):