The Evolution Of Kapiolani Park

By
.(JavaScript must be enabled to view this email address)
Wednesday - March 23, 2011
|
Share

Del.icio.us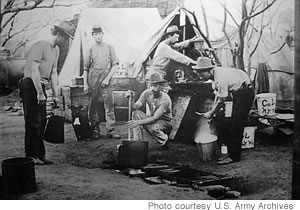 Soldiers at Camp McKinley in Kapiolani Park in 1898
I wish we'd done better with Kapiolani Park.
There's a competing need for inner-city recreation space and for open-space, well-vegetated places for people to walk and contemplate. Ala Moana Beach Park in the hustle-and-bustle should be the former and Kapiolani Park the latter.
Instead, we've made Kapiolani Park a soccer field, a zoo and a place of all manner of commercial activities from art on the fence to sales tents of the ugliest kind.
Plenty of homeless are still thwarting the law by living under outsized umbrellas or canopies on the beachfront side.
Not that the original deeded parkland with Makee's Island has always been pristine. It's had polo, horse racing, buggy paths and a huge U.S. Army encampment when we were shoving Spain out of the Pacific in the late 1800s, early 1900s.
Also, in its early days under a managing commission of important people, oceanfront acreage was pawned off to the rich and powerful for private use. Shame.
When the park moved to city control, you'd have hoped for better, but that wasn't the case. It was even an airfield for a private Honolulu-to-North Shore airline.
My read is that it should never have been land for a zoo or a golf course or anything else. It should have been botanically managed as a place for people to walk paths, or row boats (it once had that) or just enjoy as relief from urban life.
What happened? Well, the city started permitting all manner of commercial activities, and our courts did not enforce the original charter. So most weekends we see tents with sellers of all manner of common trinkets and clothing, or ethnic groups selling food and trinkets.
Yes, there are competing needs for park space - in every city. So maybe you see justification for Kapiolani Park for golfers or soccer players or kite fliers or picnickers with those huge blow-up playgrounds for kids. I see a quiet, walkabout park with bushes and flowers and restoration of the original waterways.
We may be on different wavelengths here.
I don't think there's any question that the current use of the park is at odds with its original deed and charter, even though a court ruled otherwise in a very broad interpretation. I think it was a political cave-in rather than a good read on what the deed-over intended. We have to live with that for now.
It's pono that Mayor Frank Fasi demolished the old Queen's Surf building - although modern sources tell us it wasn't altruistic; Fasi was miffed that owner Spence Weaver would not contribute to his campaign.
But look at what we've done with what we have. It's not a very exceptional park - and that useless natatorium.
I'm hoping for a visionary mayor who, in better financial days, will give us a Kapiolani Park for which Honolulu is known around the world.
Most Recent Comment(s):