The Late News On Kim Iwamoto

By
.(JavaScript must be enabled to view this email address)
Wednesday - November 22, 2006
|
Share

Del.icio.us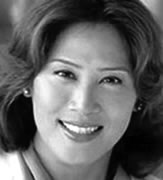 Kim Coco Iwamoto
I don't care that new state Board of Education member Kim Coco Iwamoto is a transgendered person. I voted for her in the general election, fully aware she was born male.
That said, should Hawaii's news media have told you about her sexual reorientation before the election rather than after?
The answer is yes, just as it would have been legitimate discussion of social worker Bill Woods'Canada marriage to a man had he run for the school board rather than the Legislature.
School policy is hands-down the most community-sensitive post in America. Everything about a candidate for that position is fair dinkum for voters.
There's also this issue: I had a casual discussion with a Kaiser Permanente urologist and asked if he performed any sex-change operations.
"We don't do them," he says. "There are usually serious psychiatric issues involved with people seeking sex changes, and we don't want to deal with those."
I'm told that Iwamoto, sonnow-daughter of travel icon Robert (Roberts Hawaii) Iwamoto, is a thoughtful, talented person, graduate of Saint Louis (that should have been a clue in her resume) and law school, a civil rights attorney and a licensed therapeutic foster parent.
But not mentioning the sex change in local stories was a self-censorship disservice by the newspapers and opened the way for conservative blogs like this one with a too-graphic name for MidWeek:
"After the elections the good newspeople of Honolulu finally decide to tell the public that Kim Coco is a transgender. Before the election she was just another woman running for office. They never mentioned her sexual confusion. Liberals have an agenda, our kids."
I always say that transparency wins out.

I have a personal reason to be dismayed with the news that the private Kahuku Hospital is closing.
My wife, Denby, and I used to live in Punaluu. We returned there from my Vietnam assignment for NBC News with our infant child in 1973, and moved back into our house across from the old Coco Joe's, the original Pat's at Punaluu.
One night while I was working at KGMB-TV, my wife, checking on our sleeping daughter Brett, discovered her not breathing. She rushed with the baby to our neighbors, Frank and Connie Prendergast, who drove her and the breathless child to Kahuku Hospital.
Brett was put in an oxygen tent and doctors were about to do a tracheotomy when she started breathing again.
We can't know, of course, if she would have survived a run to Kaneohe or Wahiawa. Can a heart attack victim today?
I'm writing this the day of the closing announcement, Nov 14.
I find it hard to believe that the state and private health providers won't come up with a solution.
Governor, if that fails, I cannot imagine you and the Legislature not moving quickly to establish a state-funded hospital at Kahuku.
That's what government does for people.
Most Recent Comment(s):