The Natatorium And Beach Noise

By
.(JavaScript must be enabled to view this email address)
Wednesday - December 13, 2006
|
Share

Del.icio.us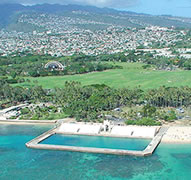 The Waikiki War Memorial Natatorium
It's past time for the city to let go of the archaic Waikiki War Memorial Natatorium and go along with Mayor Hannemann's campaign promise to turn it into a beach for families.
This week, the City Council should approve the $300,000 study (yes, folks, another costly study) on that over objections by Councilman Todd Apo, the man-out-front for the Friends of the Natatorium.
A handful of surviving World War I veterans (we only had six residents KIA in that war) and the philanthropist-preservationist Nancy Bannick will squeal, but they have a short time left on Earth and we have families with longtime recreation needs that surpass sentimentality.
The WWI vets have a memorial stone in front of the natatorium; the WWI KIA names are on the stone plaque forward of the natatorium arch. That should do it.
Mayor Harris spent $6.1 million of our money just to restore the natatorium arch and bleacher seats. It would cost another $6 million - probably more - to restore an enclosed saltwater swimming pool on that saltwater beach. Makes no sense.
Two short groins with "Y" tips would create a wonderful new beach there and preserve sand at Kaimana Beach and fronting the Waikiki Aquarium.
The city should bulldoze the arch and bleachers (goodbye, Jeremy's $6.1 million) for grass picnic area and build a small, drive-through memorial arch at the entrance to the natatorium parking lot. Everything else in grass. The car area seems to be mainly used by Kaimana Beach Hotel employees because it's packed in the a.m. before anyone's on the beach. That's because it's free, no meters.
Can a public-use place called a "war-memorial-something" be torn down? Sure. Attorney Jim Bickerton has shown that places on the Historic Register don't get automatic lifetime preservation as is. The law provides for what's called "adaptive reuse" when the community finds a better use that preserves the land from private development.
It's been suggested that the new beach and small arch could be called the Waikiki War Memorial Beach. I like that, and it's a fine compromise so ApoBannick & Co. can back off with face.
I realize this cuts both ways and places such as the Haleiwa Bridge and Hanalei Bridge could be redone under my argument to better serve the communities under an "adaptive reuse," but you have to be prepared to lose some to win some.
It was his first day in office - Jan. 3, 2005 - when Mayor Hannemann cancelled what was left undone of the Harris natatorium project. Good first move. Now the Council need to take the next big step.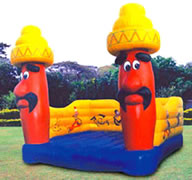 Inflatables: too noisy
And this is a perfect place to mention those humongous inflatables that have gotten out of hand at the natatorium picnicking area and in Kapiolani Park.
Inflatables as large as a Kaimuki cottage with high-decibel gasoline engines - both the size and the noise are public nuisances.
If providers will scale them back and move to whisper-quiet engines, no problem.
Otherwise, it's just another case of abuse of a good thing and the Council should move to regulate both size and decibels.
Most Recent Comment(s):