The Origins Of Mother's Day

By
.(JavaScript must be enabled to view this email address)
Wednesday - May 04, 2011
|
Share

Del.icio.us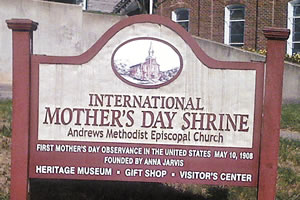 A Mother's Day shrine in Grafton, W.Va. Bob Jones photos
This Sunday is Mother's Day. Yes, spelled with the singular possessive. Celebrated now in 26 countries.
The story of Mother's Day is, like many of our beliefs, part exaggeration and part factual. If you like to think it was created so children can honor their moms at expensive restaurants, go ahead. I'll give you just the facts here.
The inception began with a group called the Mothers Day Work Clubs who sanitarily treated wounded Confederate soldiers in northwestern West Virginia. It was conceived by Anna Reeves Jarvis of Webster. West Virginia joined the Union during the Civil War, but many families fought on the side of the South and Grafton, W. Va., had predominantly Southern sympathy.
Mrs. Jarvis died in 1907 and the next year her daughter Anna had the idea for a regular Sunday event at Andrews Methodist Church to honor women who helped the hurt.
The anti-slavery activist Julia Ward Howe had suggested something similar in 1872, but that never went anywhere. Young Anna had bigger ideas. She saw wider-than-local possibilities and she pressed the West Virginia government to declare a State Mother's Day in 1910.
Then with more of Anna's lobbying, President Woodrow Wilson in 1914 proclaimed Mother's Day, but only for recognition of sons lost in World War I. It wasn't until 2008 - that's right, 2008 - that Congress passed a resolution recognizing Mother's Day (still singular). Up until then, it was a holiday only by presidential proclamation.
Actually, Albion, Mich., rather than Grafton, W. Va., should have the Mothers' (plural) Day honor because it held one called precisely that starting in 1877 as part of the women's temperance movement. The Albion Methodist Episcopal Church set aside the second Sunday of every May as Mothers' (plural) Day.
Now about the carnations. Anna would bring those to the church service as her late mom's favorite flowers. Last year, I visited the Grafton church where it all started. It's now called the Andrews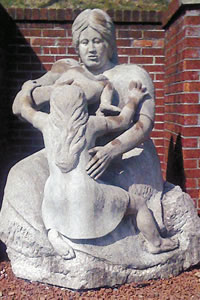 A statue at the Grafton shrine
Methodist Episcopal Church. A lot of people go there to get married, take photos and leave carnations.
Before her death, Anna Jarvis became disgusted with the commercialization of the day and the florists' push to sell red carnations. Like with Christmas, we managed to create something that wasn't there in the beginning.
All that said, please do honor your mom this Sunday.
And show her this story.
I hear that some local radio stations won't play that magnificent Grammy-winning album 'Ikena because some Hawaiian musicians think it didn't deserve the prize.
That would be like a movie theater not running an Oscar-winning film because I wrote in my column that I thought something else should have won.
Silly.
Read more at honolulupulse.com/events/hocarrere-address-criticism-head-on.
Most Recent Comment(s):