The Power of Pictures In A War

By
.(JavaScript must be enabled to view this email address)
Wednesday - April 25, 2007
|
Share

Del.icio.us
(Editor's note: This is the anniversary of the fall of Saigon and the surrender of the southern government to the communists.)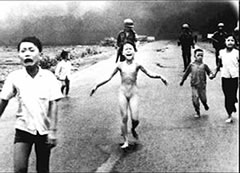 Kim Phuc's infamous photo from 1972
My best memory of the Vietnam War - other than our daughter's birth during it in Saigon - is the day I visited a happy, fully-clothed Kim Phuc.
She was the 9-year-old girl made internationally famous in a 1972 photo taken by Nick Ut, the nicest war photographer I've ever known. It's one of the most ill-reported stories of the war, but maybe that doesn't matter because who cares which side did which bad things in a bad war?
Phuc lived in a small village in Trang Bang district, about 35 miles northwest of Saigon and in the operating area of Hawaii's 25th Infantry Division out of Schofield Barracks.
Her village got bombed and napalmed. Several foreign news agencies blamed Americans. I know different. The raid was by planes of the South Vietnamese government. Phuc's village was a notorious Viet Cong staging area. That's not to justify what happened to her or other innocents. Just that it was war, and the raid was not by American planes.
Phuc's clothes were on fire so she shed them and ran with others down the highway toward Nick Ut. That photo became one of the major images of the unpopular war.
I went back to Trang Bang with Nick a year later to find Kim Phuc so we could give her presents. I was with NBC News, but I wasn't doing some heart-tugging story. I didn't bring a cameraman. It was just a personal visit. Phuc was doing very well and was not, as some said, "horribly disfigured." You can see that in the photo that accompanies this column.
Phuc's fame determined her life. Ordinarily, she'd have just been another village wife. But no, she was taken first to Moscow and then to Cuba. She's 48 years old now, married, two children, and last I knew she was living in Toronto. I've never seen her since I gave her those presents when she had just turned 10.
I've always tried to correct the incorrect reporting of that day that Americans bombed Phuc's village. The reality was that the Viet Cong made a nighttime raid and occupied much of the Trang Bang district. The Vietnamese commander at nearby Cu Chi called in the air strikes. The Vietnamese fighter-bombers used bombs and white-phosphorus ordnance - the latter a high-heat, burning agent.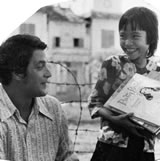 Bob and Kim Phuc in 1973
Good call or bad call? It was war. The enemy held Phuc's village, and the South Vietnamese army was not going to cede it.
"I saw the bombs. I saw the fire," Phuc said. "There was a terrible heat. I tore off my burning clothes. But the burning didn't stop. People poured water over me from their canteens. Then I fainted."
She quickly recovered and ran down the highway, screaming. Many years later she would have surgery to remove burn scars on a leg and arm.
Pictures do sear war into our brains and make us hate it. That's why I feel it was intolerable for the Pentagon to seek to bar a journalist over his photo of an American in Iraq who was hit in the head by a bullet and died despite his colleagues'best efforts to save him.
The Pentagon said "You should-n't hurt his family."
I guess that's a legitimate concern, but what about our need to see the real war and the real victims?
What if some colonel had said Nick Ut's photo was too personal, too horrible, an invasion of privacy?
What if we had never seen Kim Phuc's photo?
Most Recent Comment(s):