The Sad Legacy Of Lokelani Lindsey

By
.(JavaScript must be enabled to view this email address)
Wednesday - July 29, 2009
|
Share

Del.icio.us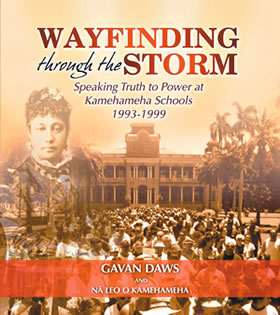 One of the best local reads of 2009 is historian Gavan Daws's eye-popping Wayfinding Through The Storm. It's the story of how the former Bishop Estate trustees damn near brought down Kamehameha Schools, and it's told through the voices of the people involved.
The tale of that debacle that ran from 1993 to 1999 has always fascinated me. It appears that the Hawaii Supreme Court was under some pressure to put a Hawaiian woman on the board of trustees and came up with Lokelani Lindsey, who had been a teacher and education administrator on Maui. Not a very popular one, it turned out, but she filled the bill.
Then, the internal decision was made to name her the lead trustee for Kamehameha Schools and implant her in an office on the campus. As we all know today, she was a disaster. She micro-managed. She shouted at people. She treated faculty as an inconvenience. She was denounced as a bully and a tyrant.
There's true irony in all this. Had the trustees (led by Henry Peters and Dickie Wong) not put her in that position, all would likely still be well for them today, they'd still all be trustees and still drawing those near-million-dollar salaries with commissions. But Lindsey, the lightning rod, fried the trustees and Bishop Estate. She caused a revolution.
Lindsey doesn't get much to say in Daws's book, which gives all its weight to the Na Kumu and Na Pua groups that were formed at the school to fight back against Lindsey and the trustees, and eventually to form a union. What Lindsey does say makes her look even worse.
In my view, there's too much fawning over school president Michael Chun. I know he's liked, but my view from day one was that he never should have won the job. He was an engineer not an educator. He was picked over a talented Hawaiian educator mainly because he got along with politicians and his wife Bina Mossman was a political player here.
The book's too easy on trustee Oz Stender. He got along and went along until the later years when he saw which way the wind was blowing, and then jumped ship and sided with the school dissidents. That saved his job as trustee. Everyone else was ousted.
Those faults aside, this is a powerful, necessary book and - like Ben Cayetano's frank memoir this year - is required reading for anyone who wants to know how this state works.
It affirms Cayetano's portrayal of former House Speaker Peters as a shamelessly vulgar bully and that we're well rid of him as a political force. We're well rid of Wong, too, who shrugged off good public relations advice and did things his way, to hell with what others thought. Trustee Gerard Jervis eventually did himself in with sex in a hotel restroom.
The book is full of fantastic cartoons by Dick Adair, the former Advertiser cartoonist who now does work for MidWeek. It is published by Watermark.
If you haven't read it, by all means do. You'll ask "how could anything possibly get so screwed up?"

Honolulu's Bob Dye waited until he was 81 to publish a novel, Humble Honest Men. Dye's a Hawaii history buff and former aide to Frank Fasi and Cec Heftel (and knows a lot of secrets!).
It's about a man like himself, the mystery of Germany's torpedoing of the passenger liner Lusitania, and whether the ship was carrying munitions.
Dye has cancer and says he hopes to survive to celebrate his approaching birthday. His wife Tessa died of cancer in 2002.
Alone I'll wonder and alone endure,
Till death restore me to my dear one's side;
And ceaseless anguish shall her loss implore,
Till age and sorrow join me to the dead.
- Turlough O'Carolan 1734

Major boo-boo by President Obama last week in that Henry Gates-and-the-cops incident in Cambridge, Mass. Stupid boo-boo.
He said he didn't have all the facts. So why say anything?
This is a president whose every word is parsed around the planet.
Wait for the facts before you blurt out an opinion.
Most Recent Comment(s):