The Slow Suicide Of Molokai

By
.(JavaScript must be enabled to view this email address)
Wednesday - October 15, 2008
|
Share

Del.icio.us
Molokai bills itself as the Friendly Island. Some snidely call it the Welfare Island. I think it's the Screwed Up Island.
Only one hotel still open - the charming but ancient Hotel Molokai ("Whatcha want, white wine or red wine?"). Molokai Ranch Lodge is out of business and boarded up. The old Sheraton at Kaluakoi long closed, rotting away, with two withered golf courses and dying palm trees. The Pau Hana Inn is a church.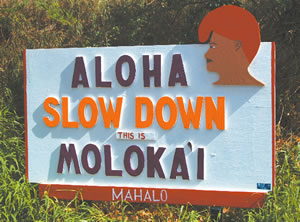 Hand-painted signs say "Protect Laau Point" on the west end where a 200-unit richies'subdivision was proposed. Protect it from what? Laau Point is so remote from Kaunakakai (20 miles) that development need never touch townies. Covenants can fully protect public access to the ocean.
Activists who naysay every economic opportunity demand that Maui County use eminent domain to confiscate Molokai Ranch lands and give them to a community co-op that might be willing to consider resort use - if it fits in with the feelings of the community. But would you working people invest your tax money in such a proposition?
Yes, it's wrong that any private company should control so much - 53,000 acres, or one-third of Molokai. But the acquisition was 115 years ago and used to be about 100,000 acres including leases.
Many local residents say, "We just want to stay the way we are." Hey, that's fine with me, but not if you insist on welfare. You also said no to once-a-week, one-day visits by a cruise ship. You're taking the shuttle boat to Lahaina-Kaanapali at $40 a day to work the same hotel-restaurant service jobs you sneer at on your home island.
Frommer's travel guide says: "The Friendly Island may enchant you as the real Hawaii of your dreams. On the other hand, you may leave shaking your head, never to return." The Go-Hawaii website lists one of the main events for tourists as "take a nap." Only about 80,000 people visit Molokai (population 8,000) a year.
For locals who must buy at mom-and-pop stores, virtually nothing is produced there. Hotel Molokai had run out of fresh veggies when I was there so it used frozen ones for dinners. Gas cost $5.06 a gallon.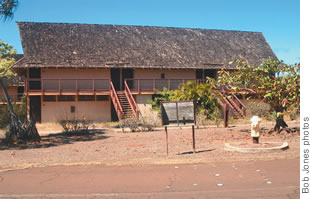 Once a top Sheraton resort, Kaluakoi is now just rotting buildings, dying trees and a withered golf course
I can't fault local residents for not wanting outside-owned hotels. On the other hand, how much longer can they survive without steady jobs?
Life doesn't stand still. Most people want to flourish, send their kids to college and not be old and destitute.
Most people make something happen. Not on Molokai.

Does this strike you as silly? Councilman Charles Djou and his Kahala constituents ask the Japanese government to do something about Gensiro Kawamoto's neglected Kahala properties.
It's not a foreign government problem, and who cares about somebody else's grass cutting and weeding habits? Djou, lawyer Rich Turbin & Co. need to get a real life, in a real neighborhood with real people.
They remind me of the old Kahala, when you needed pedigree vetting to get in.
Besides, isn't Djou one of those government-get-out-of-my-life Republicans?
Most Recent Comment(s):