The Truth About First Turkey Day

By
.(JavaScript must be enabled to view this email address)
Wednesday - November 21, 2007
|
Share

Del.icio.us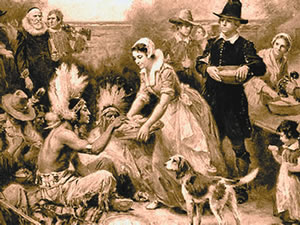 Maybe not the first Thanksgiving
Warning to parents: This column could be harmful to children who believe everything they've been told by you, their grandparents, their teachers and their ministers.
Is the commonly told story of the first Thanksgiving in the New World true? Or are the people who say it's not true the ones not telling us the truth?
President Washington declared the first Thanksgiving in 1789 and President Lincoln made it a formal American holiday in 1863. He seems to have felt that if those first colonists and the Indians could sit at a table and talk turkey, why not the North and the South?
But that whole Pilgrims and Indians story we've inherited seems to have a lot of flaws. This could be a great over-the-holiday project for our teachers to give eighth-graders. OK, so scratch that lest students burn me in effigy! Moving on.
True, 1621 was a famine year for the Plimoth (proper spelling of the time) Colony of later-to-be-called Massachusetts, but according to Gov. William Bradford's telling it was laziness that caused that, plus the socialism he would banish in favor of capitalism.
OK, Gov. Bill, whatever. It is noted by several sources that 90 Wampanoag Indians and 52 famished English colonists (nearly half the original colony members had starved) gathered that fall for a harvest feast. Some historians suggest the colonists simply hoped to enlist the Indians as field workers. Didn't happen. I do find it hard to believe that those stuffy white folks from England said "oh, let's have some brown, savage heathens over for dinner. We'll make them pumpkin pie." That's the idea you're supposed to get from the idealized painting by American artist Jean Louis Ferris that accompanies this column.
Turkey? Only Gov. Bradford mentions turkey in a 20-years-later book made from his diaries. Aguy who was there at the lunch, Edmund Winslow, wrote in his dairy that they ate deer. Others mention fowl being hunted, but most historians think that meant wild geese, not turkey. No potatoes. They didn't have them yet - white or sweet. But maybe yes to cranberries, which the Indians knew about, but had they introduced them to the colonists that soon?
And you should know that the colonists and the local Indians did not live happily ever after the gathering. By 1624, the colonists were flush with food, expanding, and shoving the Indians back from the coastal lands.
William Loren Katz, author of Black Indians, A Hidden Heritage, writes that "in 1637 Governor
Bradford, who saw his colonists locked in mortal combat with dangerous Native Americans, ordered his militia to conduct a night attack on the sleeping men, women and children of a Pequot Indian village." Worse came later.
How that 1621 gathering of colonists and Indians got the iconic telling it has in so many American schools and churches today I cannot say. I guess we embellish most stories.
There's also the issue that the most authentic account, by Winslow, never mentions the word "thanksgiving" or that there was any prayer, and therefore some say the "feast" was just an ordinary secular harvest event in a year of a pretty paltry harvest. I should point out that not every colonist was a Christian or believed in God. Not all the Founding Fathers were, or did, either. But that's another story.
Do we care? No, not really. I enthusiastically celebrate every Hawaii Thanksgiving with a half-Jewish family. We eat and drink and talk, but do not give thanks. I love Thanksgiving and not for any historical reason.
And just as an academic post-note, it's believed the first Jew in America was Joachim Gaunse, a metallurgist who came to Virginia in 1585 with Sir Walter Raleigh.
That's something else you teachers can assign as research material for your eighth-graders.
Most Recent Comment(s):